---
Elon Musk Asks Of Jordan Neely Protesters: "Why Didn't They Protest The Children Murdered At The Christian School?"
Authored by Steve Watson via Summit News,
Twitter owner Elon Musk reacted Sunday to protesters disrupting the New York City Subway to protest the death of Jordan Neely, a man with long history of threatening and physically attacking people on the subway who was accidentally killed during an attempt by a former US Marine to subdue him during a confrontation.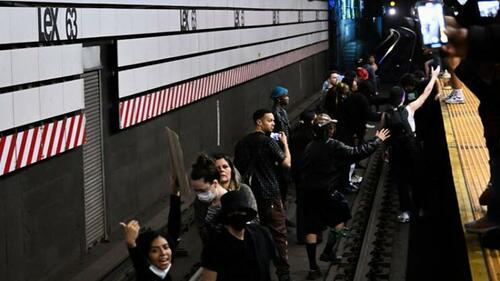 The protesters caused mayhem Saturday night, jumping on the tracks and attempting to block trains, as well as blocking people from entering and exiting stations.
Protesters are now disrupting the NYC subway to protest the death of Jordan Neely. pic.twitter.com/9y5SDetzQX

— Ian Miles Cheong (@stillgray) May 6, 2023
In case it's not clear here are white protestors screaming at a black man who says he's just trying to get to work. https://t.co/mBKwcI0wSa

— Stephen L. Miller (@redsteeze) May 7, 2023
Musk labeled the protesters as "disingenuous," adding "Why didn't they protest when the children were murdered at the Christian school?" referring to the shooting in Nashville by a trans identifying person in March.
Why didn't they protest when the children were murdered at the Christian school?

They are disingenuous.

— Elon Musk (@elonmusk) May 7, 2023
The clear insinuation by Musk is that there was less of a uproar about the Nashville shooting among these kind of protesters when it emerged exactly who was behind the shooting.
The incident quickly fell out of the news cycle when it failed to fit the established narrative.
Greenwald: Nashville Shooting Has Been Erased From Memory Due To Inconvenient Narrative
Why aren't they protesting about the black man who killed two white women in Oklahoma simply for being white?

If it doesn't fit their agenda, it gets memory-holed in less than a day.

— Rich F (@RichFGeorgia) May 7, 2023
Because they pick and choose dependent upon political affiliation

— Donna Young (@proudflnative1) May 8, 2023
Because it's not really about people but an agenda.

I've concluded that they don't really care about regular people but the facade of caring about regular people...even if those people are innocent children.

They have to be the right kind of children and they weren't.

— Adam B. Coleman, President of Aintblackistan (@wrong_speak) May 7, 2023
27 shot, 5 killed last weekend in Chicago

The media doesn't care about black lives

They only care about black lives that can be used to demonize white people and further inflame racial tensions

— End Wokeness (@EndWokeness) May 7, 2023
As the death of #JordanNeely has gone viral due to leftist & BLM misinformation, more New Yorkers are speaking out about their experiences with the dangerous man. One person says Neely tried to push them into the train tracks at the Broadway-Lafayette station. Neely had an arrest… pic.twitter.com/PPNTGY4iUo

— Andy Ngô 🏳️‍🌈 (@MrAndyNgo) May 6, 2023
*  *  *
Brand new merch now available! Get it at https://www.pjwshop.com/
In the age of mass Silicon Valley censorship It is crucial that we stay in touch. We need you to sign up for our free newsletter here. Support our sponsor – Turbo Force – a supercharged boost of clean energy without the comedown.
Also, we urgently need your financial support here.
Loading...