---
Elon Musk To Visit Texas Southern Border As Illegal Immigrant Crossings Skyrocket
Authored by Jana Pruet via The Epoch Times,
Billionaire Elon Musk said he will visit Eagle Pass, Texas, later this week as illegal immigrant crossings have skyrocketed in recent weeks.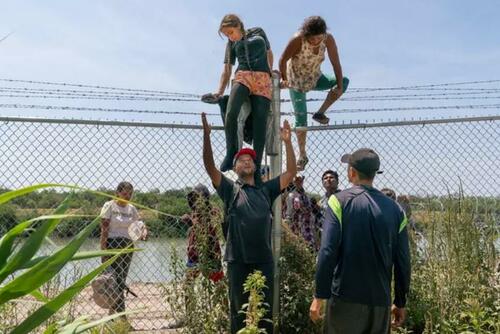 Mr. Musk, who owns SpaceX, Tesla, and X, formerly known as Twitter, said he had spoken with Texas Rep. Tony Gonzales (R), who confirmed the southern border is "overwhelmed" by the growing number of immigrants coming into the United States.
"I spoke with Rep Tony Gonzales tonight – he confirmed that it is a serious issue. They are being overwhelmed by unprecedented numbers – just hit an all-time high and still growing! Am going to visit Eagle Pass later this week to see what's going on for myself," Mr. Musk wrote on X at 12:50 a.m.
Mr. Musk has been critical of mainstream media for failing to bring attention to the situation at the border.
"Strange that there is almost no legacy media coverage of this. About 2 million people — from every country on Earth — are entering through the U.S. southern border every year. The number is rising rapidly, yet no preventive action is taken by the current administration," he said in a post last week.
On Monday, Mr. Gonzales, along with other House Republicans, visited the Texas-Mexico border to bring attention to thousands of daily crossings.
"I hosted a group of my #HouseGOP colleagues here in Eagle Pass today — it's clear our border is broken. The first thing Congress needs to do is pass funding that secures our border and puts an end to this madness," Mr. Gonzales wrote on X.
The congressman also visited the migrant processing center where more than 4,000 immigrants are being held.
"Just left the migrant processing center in Eagle Pass where Border patrol has 4,000+ in custody. This is FOUR TIMES their holding capacity, and it's happening EVERY COLON," Mr. Gonzales wrote.
Emergency Declaration
Mr. Gonzales's visit comes after Eagle Pass Mayor Rolando Salinas, Jr. issued a seven-day emergency declaration for the small town of about 30,000 residents due to a "severe" surge in illegal immigration. It is not immediately clear whether the declaration will be extended.
The massive influx even forced border authorities to shut down bridges to the area in recent days, according to Mr. Salinas.
Also, on Sept. 25, a group of illegal immigrants attempted to claim a small Texas island in the Rio Grande as their own, according to Texas Department of Public Safety spokesman Lt. Chris Olivarez.
"The #Eagle Pass area continues to experience an influx of illegal immigrants — the majority from Venezuela. Some decided to claim a #Texas island by placing a foreign flag — that was quickly taken care of by our DPS Tactical Marine Unit. #DontMessWithTexas," Mr. Olivarez wrote.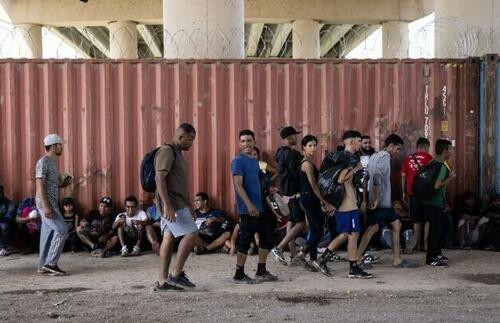 Illegal immigrants wait to be processed by the U.S. Border Patrol at a processing center under a bridge in Eagle Pass, Texas, on Sept. 25, 2023. (Andrew Caballero-Reynolds/AFP via Getty Images)
In August, U.S. Border Patrol agents recorded 232,972 migrant encounters along the southwest border, up from 183,494 in July. The number of crossings for September is expected to be higher than the prior month.
The number of migrants crossing the border illegally since President Joe Biden took office has increased year over year.
During fiscal year (FY) 2022, there were nearly 2.38 million crossings, up from 1.74 million in 2o21. The fiscal year runs from October to September.
Under former President Trump, there were 458,088 illegal crossings during FY 2020, which runs from October through September.
FY 2023 is expected to set a new all-time high of illegal immigrants crossing into the U.S. over a 12-month period.
Meanwhile, Texas Gov. Greg Abbott said he will continue bussing migrants to Democrat-run sanctuary cities across the country to help small Texas border towns.
"Texas continues to bus migrants to sanctuary cities to relieve overwhelmed border towns," he wrote on X.
"Over 12,000 to DC Over 15,300 to NYC Over 9,200 to Chicago Over 3,000 to Philadelphia Over 1,800 to Denver Over 650 to LA," he added.
Loading...