---
EPA Halts Norfolk Southern's Removal Of Toxic Ohio Train Derailment Debris
The Environmental Protection Agency ordered Norfolk Southern to halt all shipments of contaminated waste from the train derailment site in East Palestine, Ohio, to ensure proper disposal, according to Bloomberg. 
"Moving forward, waste disposal plans, including disposal location and transportation routes for contaminated waste, will be subject to federal EPA review and approval," said Debra Shore, the regional administrator for EPA's Region 5 office.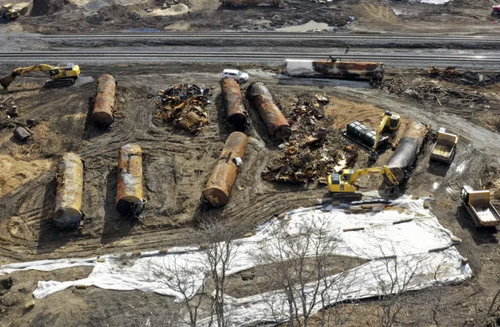 Shore said, "EPA will ensure that all waste is disposed of in a safe and lawful manner at EPA-certified facilities to prevent further release of hazardous substances and impacts to communities."
Until Friday, Norfolk Southern "had been solely responsible for the disposal of waste," she said. 
The move comes as state officials in Michigan and Texas complained they weren't notified when truckloads of contaminated soil and water from East Palestine were shipped into their jurisdictions for disposal. 
The Ohio governor's office said Saturday night that of the twenty truckloads (approximately 280 tons) of hazardous solid waste hauled away, 15 truckloads of contaminated soil was disposed of at a Michigan hazardous waste treatment and disposal facility while five truckloads had been returned to East Palestine.

Liquid waste already trucked out of East Palestine would be disposed of at a licensed hazardous waste treatment and disposal facility in Texas, but that facility would not accept more liquid waste, the Ohio governor's office said.

"Currently, about 102,000 gallons of liquid waste and 4,500 cubic yards of solid waste remain in storage on site in East Palestine, not including the five truckloads returned to the village," the governor's office said. "Additional solid and liquid wastes are being generated as the cleanup progresses." --AP News
The Biden administration has been criticized for its response time and lack of coordination following the train derailment on Feb. 3. But, on Saturday, Transportation Secretary Pete Buttigieg said the response by federal agencies "has been really well coordinated."
If that's the case, why would the EPA temporarily suspend the removal of contaminated waste while evaluating Norfolk Southern's plan? Wouldn't a concrete plan already be in play?
Loading...