---
ESPN Has Nearly $1 Billion In Ad Revenue Hanging In The Balance Of College Football Season
Disney's ESPN has almost $1 billion in ads hinging on whether or not college football season is going to happen this year. The only question now is whether or not the season is going to take place.
ESPN owns two conference networks and has deals to televise every major bowl game. The network also owns many postseason games and commercial rights like sponsorships and naming rights, according to Sportico. ESPN's networks televised 282 games and sold $792.5 million in ads - more than double the $314.8 million that the network's NFL package generated. And that doesn't even count the network's digital service, ESPN+. 
In other words, college football is the network's major business. And the disruption of the season - which looks more and more to be a foregone conclusion - could create a very real top line problem for the network. The Big Ten and Pac 12 have already canceled some early season games and the NCAA's board of governors will continue meeting to determine the fate of the rest of the season.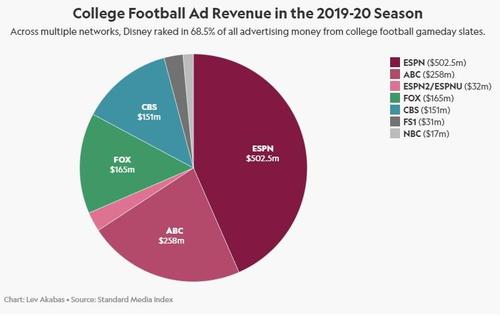 Ads that ran during bowl games last year averaged about $30,000 for a 30 second spot. For the semifinal and national title game, those numbers rose to $560,000 and $1 million. The national title game last year drew in 27.3 million viewers. 
Dan Cohen, who leads Octagon's media rights consulting division, said: "ESPN's business in college sports, and primarily college football, is an actual ecosystem. And a lot of their business is organic, as opposed to inorganic. Buying rights to Major League Baseball, then selling ads and securing affiliate deals off that content is inorganic, it's a transactional piece of business. When you own bowl games, and when you own networks, that becomes a business unit in and of itself."
The network does have some security, however, due to its long-term sponsorship deals with names like Allstate and Dr. Pepper. Smaller advertisers, however, could come calling for refunds. The network's affiliate fees will also help offset some of the turmoil. Sportico writes:
"Each month, the network receives $9.06 for every household that subscribes to its linear TV feed, a premium rate—the industry average is around 40¢ per sub per month—that this year will pump some $8.8 billion into ESPN's coffers. That's just for keeping its signal turned on, and the loss of marquee programming won't put ESPN in default with the operators."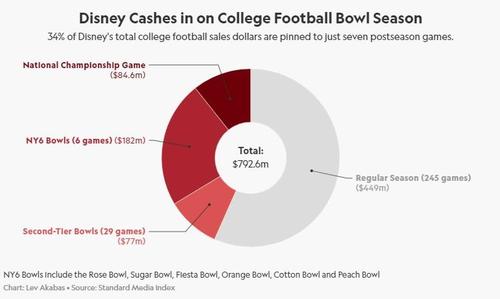 One media consultant commented: "The cable guys may be justified in not wanting to pay those fees [if there's no football]. But they don't have much recourse one way or the other. The force majeure language in most affiliate contracts says the programmer has up to a year to deliver the goods."
The report says it is "unclear" how far along the network is in selling ads for the upcoming season. 
Cohen concluded by noting that ESPN does have some leverage from having all of its eggs in one basket: 
"From an economic perspective, you take a bigger hit because you have a bigger piece of the pie, but it also might be easier to manage because you have more control and more flexibility. Let's say it's a bowl game that ESPN owns. If they need to create new sponsorship assets that are digital or virtual in nature, they don't need to work with another entity to figure that out. If they want to re-price or discount ad rates or entitlements, they can make that decision themselves; they don't need to work with another broadcaster or property owner."