---
EU Corruption Scandal: Socialist MEP Lived "Lifestyle Of A Movie Star"
The Qatargate corruption scandal that has sent shockwaves through Brussels has also revealed that the key suspect, a "socialist" politician, enjoyed the "lifestyle of a movie star," according to Hungarian newspaper Origo.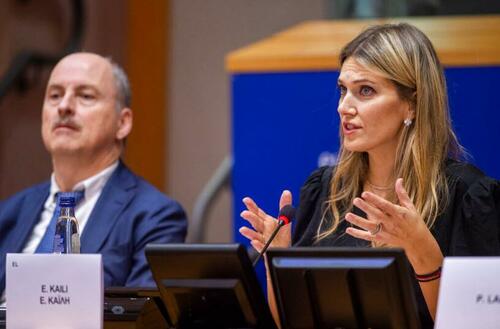 In this photo provided by the European Parliament, Greek politician and European Parliament Vice-President Eva Kaili, right, speaks during the European Book Prize award ceremony in Brussels, Dec. 7, 2022. (European Parliament via AP)
Caribbean holidays, glamorous parties in the clubs of Athens with supermodels, and luxury apartments. MEP Eva Kaili, the current star of the Brussels corruption scandal, appeared to have it all. Kaili turned out to not just be a socialist, but also a socialite who enjoyed a level of luxury quite out of place with the working-class principles that were once typically associated with the left.
Kaili bought a 169-square-meter luxury apartment in Psychiko, near Athens, Greece, in 2019 for €260,000, Alpha newspaper reported. Regarding the property, real estate consultant Paris Rigopoulos said that its objective value is estimated at €659,000 euros, while its market value is between €850,000 and €900,000.
As reported by Rena Kouvelioti, a journalist for Alpha, the MP's apartment is located on the third and fourth floors and its price is estimated at €4,000 per square meter. According to press reports, the fourth floor of the apartment is used as an office and is connected to the floor below by an internal staircase.
According to her statements, Kaili bought the property in question after selling another apartment in the municipality of Anixi. The initial apartment, a 250 square meter property, was reportedly bought in 2009 for €291 000. Nine years later, she sold the property for €340,000. However, the tax office valued the property at only €214,000.
The significant difference of more than €100,000 she received and what the property was actually worth could raise questions in light of the corruption case.
Kaili has also bought three other properties. One is a 44 square meter apartment in Skoufa Street in Kolonaki, which she bought in 2005 for €66,000, where her company, founded on Nov. 30, had its headquarters. The apartment is currently valued at €52 215. Kaili also owns a house of 120 square meters in Thessaloniki, which she bought in 1997. She also owns a 53-square-meter apartment in Belgium, which she bought in 2015 for €175,000.
Coming back to the corruption scandal, the Financial Times mentions Kaili, who tried to represent the interests of Qatar in the European Parliament including visa-free travel for Qataris to Europe, as an insider of the other main suspect, Pier Antonio Panzeri. Her meetings with Qatari officials in Brussels, her visits to the Arab country, and her efforts to sabotage negative votes on Qatar may have been motivated by bribe money.
However, some MEPs argue that the bribes have had no real effect on EU policy.
"I have the impression that the (Panzeri) team tried to show the Qataris that they were working hard on their behalf, that's why they made these efforts," said Brando Benifei, head of the Italian Socialist delegation of the Democratic Party (PD), adding that he believed "they did not achieve any real results."
Loading...