---
Is The EU Trying To Cover Up The Biggest Corruption Scandal In Its History?
Authored by Grzegorz Adamczyk via Remix News,
The EU's Qatargate bribery scandal is being swept under the rug to protect the powerful, warns one Polish MEP...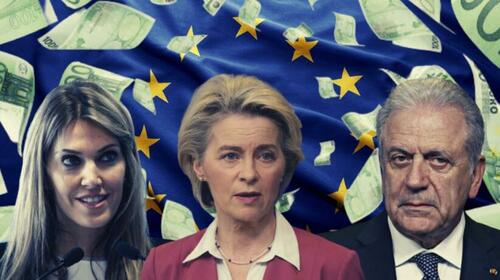 After the arrest of Greek MEP Eva Kaili (left) in the Qatargate corruption scandal, the European Commission led by Ursula von der Leyen (center) is facing new scrutiny after new revelations concerning former EU commissioner Dimitris Avramopoulos (right).
The EU's corruption scandal in the European Parliament is being swept under the rug, with those involved returning to their parliamentary duties as if nothing had happened, according to Polish ruling conservatives MEP Jacek Saryusz-Wolski.
"We are witnessing a cover-up," said Jacek Saryusz-Wolski, who serves as a Law and Justice (PiS) MEP.

He added that "the scandal was real and the evidence very tangible."
He also revealed that those involved are returning to their parliamentary duties as if nothing had happened, including former deputy President of the European Parliament Eva Kaili, who is returning to her position as an MEP, according to a report from PAP.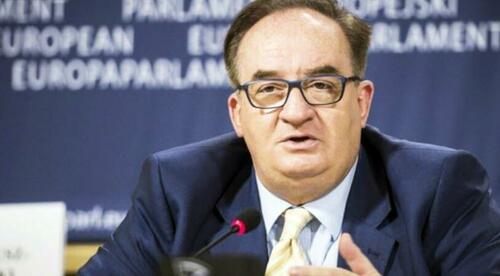 Polish MEP Jacek-Saryusz-Wolski says the EU is trying to bury its massive corruption scandal.
Remix News created a number of short videos on the topic, which outline some of the main allegations. The corruption scandal broke in December 2022 with the arrest of Kaili. She is suspected of having taken bribes from Qatar, with Belgian police discovering over €100,000 stuffed in paper bags and briefcases during a search of her apartment. Prosecutors allege this was bribe money from Qatar.
As Remix News reported, she is known for her luxury lifestyle, and investigations are now questioning how she secured some of her more high-end real estate properties.
In addition, two more MEPs, Marc Tarabella and Andrea Cozzolino, have also been charged in the scandal. They both had their immunity lifted during the criminal probe.
Now, there are fears that due to the high-profile nature of the probe involving liberal MEPs, the EU will not allow the investigation to move forward. There have been claims that up to 100 MEPs could be involved, with far-reaching consequences for the mainstream parties of Europe.
Saryusz-Wolski says that "Fight Impunity," the name of the NGO led by Pier Antonio Panzeri, a former Italian MEP and one of the suspects, now comes off as sick.
"It is an example of impunity with regard to the corruption in which these people were involved," he said. He believes that the reason the affair is being swept under the rug is that the scandal could engulf the EU's executive and other political groupings other than the socialists. 
Eva Kaili is also being investigated in Greece for money laundering. She and her family are suspected of having invested undeclared income in properties. If she is found guilty, it is likely that the Greek courts will hand down a more severe punishment than those in Belgium.
Her lawyers stated at the end of May that she could return to her parliamentary duties, provided she does not leave Belgium. Kaili is being allowed to attend the next session of the European Parliament in Strasbourg. 
Loading...