---
€1.5M Stuffed In Suitcase & Paper Bag: EU Parliament Bars Qataris From Premises As Graft Probe Widens
On Thursday members of the European Parliament voted to suspend the access of Qatari representatives to its grounds and offices over the ongoing graft scandal which rocked the EU body after last week police raided some 16 offices and homes of EU officials and aides suspected to be involved, resulting in the high profile arrest of Greek MEP and European Parliament Vice President Eva Kaili.
The tiny but influential oil-and-gas rich Gulf country is alleged to have attempted to bribe MEPs with "large sums of money" and "substantial gifts" - including their assistants - in what media reports described as an expansive influence-peddling operation.
Kaili and three other officials remain in police custody amid a continuing investigation. Police announced late last week that they initially recovered 600,000 euros in cash in the raids. Politico in follow-up reported that in total, "The investigation has uncovered at least €1.5 million in stacks of euros stashed in a suitcase, a briefcase and even a paper bag." So it seems Qatari representatives were waltzing into offices and handing out literal bags of cash.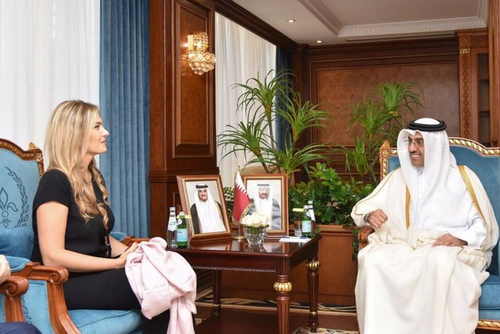 "Computer equipment and mobile phones were also seized. These elements will be analysed as part of the investigations," the Belgium-based EU prosecutor's office stated after it was "suspected a Gulf country (of influencing) the economic and political decisions of the European parliament."
EU lawmakers also moved Thursday to halt any and all pending legislation involving Qatar, given that now suspicions over the parliament's transparency and lobbying procedures have deepened. The parliament's human rights committee has also come under scrutiny given the involvement of officials suspected of links to the scandal.
Qatar is among Gulf Cooperation Council (GCC) countries, with Saudi Arabia foremost among them, that have long been accused of serious human rights violations and crackdowns, yet which often employ hundreds of millions of dollars across the globe for media whitewash campaigns. 
Even before the scandal came to light, CNN was weeks ago previewing the World Cup opening hosted in Doha with the following: 
Football's 2022 World Cup kicks off in Qatar on Sunday, but the championship – the first to be held in an Arab country – is clouded by controversy even before it begins. First, allegations of corruption around the awarding of the World Cup to Qatar by FIFA, football's governing body, with an FBI probe of leaders implicated in a bribery scandal. Then, reports of exploitation of Qatar's migrant workers. And other human rights abuses – particularly against Qatar's LGBTQ population. Homosexuality is illegal in the country.
With one hand, #Socialists in the European Parliament put on a #OneLove armband.

With the other hand, they lined their pockets with bribes from #Qatar.

Not personal financial interests, but the interests of 450 million citizens should be central to #EU policymaking! pic.twitter.com/ilTjOgNyjh

— Rob Roos MEP 🇳🇱 (@Rob_Roos) December 14, 2022
Meanwhile preparations are underway to prosecute those MEPs snagged in the probe thus far, according to Politico:
The center-right European People's Party said it was fine with lifting the immunity of two European Parliament members, including one within its own political group.

The EU's chief prosecutor on Thursday asked to strip immunity from two Greek MEPs, EPP member Maria Spyraki, and Eva Kaili, a member of the Socialists and Democrats.
44-year old Kaili has been a European MEP since 2014, and initially rose to visibility as a popular Greek television presenter. Her party PASOK, or the Panhellenic Socialist Movement - one of Greece's main opposition parties - moved swiftly to formally expel her last week upon her arrest and following revelation of the corruption investigation.
Loading...