---
ExxonMobil Launches Legal Challenge Against EU Over Windfall Profit Tax
Authored by Katabella Roberts via The Epoch Times,
ExxonMobil has filed a lawsuit against the European Union (EU) over a windfall tax on energy companies announced in September, arguing that the move is "counterproductive" and will "undermine investor confidence."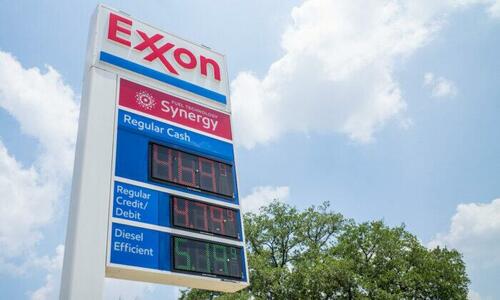 The Texas-headquartered oil and gas company announced the legal challenge against the bloc, which will be decided on by the European General Court, in a statement to media outlets on Dec. 28.
"Our challenge is targeted only at the counter-productive windfall profits tax, and not any other elements of the package to reduce energy prices," a company spokesperson said.

"This tax will undermine investor confidence, discourage investment, and increase reliance on imported energy and fuel products. European industries already face a very real competitiveness crisis and governments should be supporting the production of reliable and affordable energy," the statement added.
In a separate statement to multiple media outlets, the company added that whether or not it invests in Europe will "primarily depend on how attractive and globally competitive Europe will be."
EU Announces Windfall Tax
European Commission chief Ursula von der Leyen announced in September emergency measures that would charge energy companies who make record profits in 2022.
Under the new measures, a 33 percent tax on this year's oil, gas, and coal profits will be rolled out if they are 20 percent or more above average profits between 2018 and 2021. The measure will be effective as of Dec. 31.
ExxonMobil's lawsuit was filed on Dec. 28 by its German and Dutch subsidiaries at the European General Court in Luxembourg City, The Financial Times reports.
Specifically, it challenges whether the EU has the legal authority to impose the new tax and its use of emergency powers in getting member states to approve the measure, according to the publication.
European Commission spokesperson Arianna Podesta said in a statement to The Hill that the commission "maintains that the measures in question are fully compliant with EU law."
Additionally, the tax measure will "ensure that the whole energy sector pays its fair share in these difficult times," the spokesperson said.
ExxonMobil reported a quarterly profit of almost $20 billion in October.
At the time, Darren Woods, chairman and chief executive officer, said the results "reflect the hard work of our people to invest in and build businesses critical to meeting the demand we see today."
"We all understand how important our role is in producing the energy and products the world needs, and third-quarter results reflect our commitment to that objective," Woods added.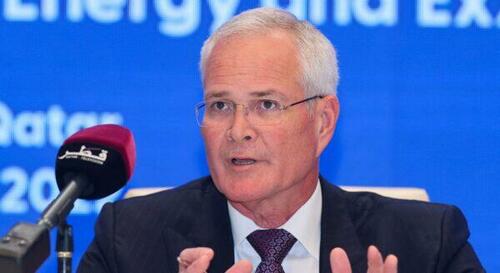 ExxonMobil Chairman and CEO Darren Woods speaks during a press conference in Doha, on June 21, 2022. (Karim Jaafar/AFP via Getty Images)
Tax Could Cost ExxonMobil $2 billion
Chief Financial Officer Kathryn Mikells told analysts on a call on Dec. 8. that the windfall tax profits imposed by the EU could cost the company at least $2 billion through the end of 2023. The company said it had invested $3 billion in the past decade in refinery projects in Europe, helping the country to get more energy while reducing its reliance on imports from Russia.
The EU previously had a long-running relationship with Russia when it came to natural gas imports, but that relationship turned sour this year following the Kremlin's invasion of Ukraine, with Europe vowing to end dependence on Russian gas by 2030. This has left the 27-member bloc scrambling to find alternative sources.
EU ministers estimate that they can raise €140bn ($148 billion) by imposing the windfall tax on emergency companies raking in larger-than-usual profits.
Biden Threatens Similar Tax
In the U.S., President Joe Biden also threatened a similar tax on oil company profits if they don't boost production.
In November, Biden accused oil companies of profiting from the war in Ukraine, saying that the profits are "not because they're doing something new or innovative" but instead are "a windfall of war—the windfall from the brutal conflict that's ravaging Ukraine and hurting tens of millions of people around the globe."
"Any company receiving historic windfall profits like this has a responsibility to act beyond their narrow self-interest of its executives and shareholders," he said.
Biden has repeatedly blamed increased oil prices on Russian President Vladimir Putin, or what he calls "Putin's price hike." Some Republican lawmakers have taken aim at the President and a number of his energy policies, including his decision to suspend construction of the Keystone XL pipeline, which would have brought oil from Canada to the United States.
The Epoch Times has contacted ExxonMobil for comment.
Loading...