---
'Octagonal' Object Shot Down Over Lake Huron
Update (1659ET):
LATEST OBJECT SHOT DOWN BY U.S. WAS FIRST DETECTED OVER MONTANA ON SATURDAY - OFFICIAL
U.S. DID NOT ASSESS LATEST OBJECT TO BE MILITARY THREAT TO ANYTHING ON THE GROUND -OFFICIAL
SENIOR U.S. OFFICIAL SAYS OBJECT SHOT DOWN WAS OCTAGONAL STRUCTURE, BUT NO DISCERNIBLE PAYLOAD
The Pentagon is expected to give a press conference at 5pm ET regarding the downed object.
*  *  *
Update (1548ET): The US military has 'decommissioned' another 'object' over Lake Huron, according to Rep. Jack Bergman (R-MI), who has been in contact with the Defense Department regarding operations across the Great Lakes region on Sunday.
I've been in contact with DOD regarding operations across the Great Lakes region today.

The US military has decommissioned another "object" over Lake Huron.

I appreciate the decisive action by our fighter pilots.

The American people deserve far more answers than we have.

— Rep. Jack Bergman (@RepJackBergman) February 12, 2023
According to Michigan Congresswoman Rep. Elissa Slotkin (D), the object was downed by pilots from the US Air Force and the National Guard. It was flying at 20,000 ft, and was described as "octagon shaped."
This is now the fourth object neutralized by the US military in a little over a week.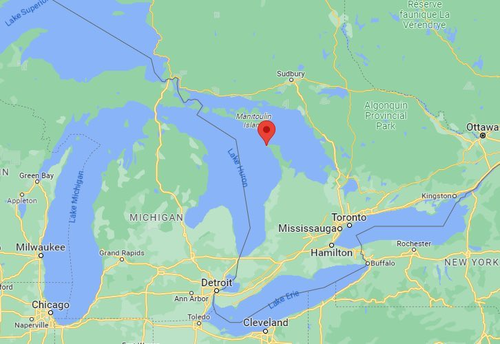 * * *
Authored by Jack Phillips via The Epoch Times (emphasis ours),
The Federal Aviation Administration (FAA) restricted airspace over a portion of Lake Michigan on Sunday to "support Department of Defense activities" that temporarily closed down the area for commercial and civilian air traffic, which was lifted a short while later.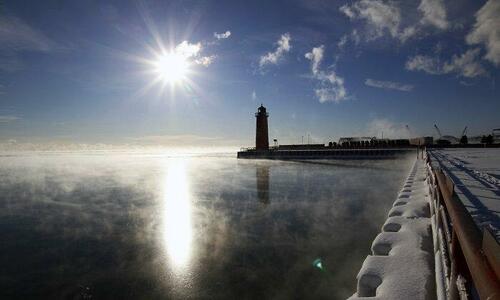 The North American Aerospace Defense Command (NORAD) confirmed later that both it and the FAA "implemented a temporary flight restriction airspace over Lake Michigan at approximately 12 p.m. EST on Feb. 12, 2023." That was done "to ensure the safety of air traffic in the area during NORAD operations," it said, noting that the restriction has since been lifted.
"The FAA briefly closed some airspace over Lake Michigan to support Department of Defense activities," an FAA spokesperson told The Epoch Times on Sunday, without elaborating further. "The airspace has been reopened."
The U.S. Air Force E-3B Sentry appears to have diverted from its "Racetracks" and seems to be quickly heading towards the new NOTAM. pic.twitter.com/kx1oHsrKlz

— OSINTdefender (@sentdefender) February 12, 2023
The FAA notice, which banned civilian air traffic from the area, was done for national defense reasons, according to a map monitoring FAA notices, the AFP news agency, Reuters, and Fox News. As of Sunday at around 1:15 p.m. ET, the FAA flight restriction appeared to have been lifted, according to the map.
There were no public comments from the Department of Defense as of Sunday afternoon.
The FAA has provided few details about why it set up the flight restriction, which encompassed a square area that encompassed a portion of Michigan's Upper Peninsula, the northwestern part of the Lower Peninsula, and parts of Wisconsin.
I am in constant communication with NORCOM and they have just advised me that they have confidence there IS an object and it WAS NOT an anomaly. I am waiting now to receive visual confirmation. Our nation's security is my priority.

— Matt Rosendale (@RepRosendale) February 12, 2023
"Pilots who do not adhere to the following [procedure] may be intercepted, detained and interviewed by law enforcement or security personnel," the FAA also said Sunday about the Lake Michigan restriction, adding that pilots who enter could face deadly force, according to Fox News.
A number of large U.S. cities are located along Lake Michigan, including Chicago; Milwaukee; Gary, Indiana; and Green Bay, Wisconsin.
February 12, 2023
Read more here...
Loading...