---
"Terminal Is Secure" - Police Report After Shots Fired At Dallas Love Field Airport
Update (1300ET): Police are saying that "the terminal is secure"
Chief Garcia will brief media at 12:10 at the staging area. The terminal is secure at this time.

— Dallas Police Dept (@DallasPD) July 25, 2022
Dallas Police have confirmed the shooter was a 37-year-old woman (how did they know it's a woman, are they biologists?) who fired multiple shots near the ticket counter.
She was the only one injured, wounded by a quick-responding officer, and has been taken to hospital.
*  *  *
Passengers are sheltering and/or evacuating...
@DallasLoveField what just happened? A group of people were running and yelling "run" and we all immediately took cover. Nothing has been communicated to us. Everything seems to be calm now. It was most certainly a scary experience for all. @SouthwestAir pic.twitter.com/zU7QLhFV4C

— Johnny Mojica (@johnnyamojica) July 25, 2022
Police are currently responding to reports of shots fired at Dallas Love Field airport...
PIO is en route to Dallas Love Field Airport in response to reports of shots being fired. Follow our Twitter for updates.

— Dallas Police Dept (@DallasPD) July 25, 2022
Dallas Fire-Rescue confirmed to NBC 5 that one person was transported from the airport to a hospital.
This was frightening. Waiting for flight home at #lovefield, everyone in the terminal began running for the gates in sheer panic. Supposedly active shooter at ticket counter. @SouthwestAir staff were amazing, doing everything to get us to safety. #guncontrol #EnoughIsEnough pic.twitter.com/kSZmFdR9UC

— Mark D Anderson (@MDAnderson314) July 25, 2022
The extent of that person's injuries is not yet known and we don't yet know anything about who that person is.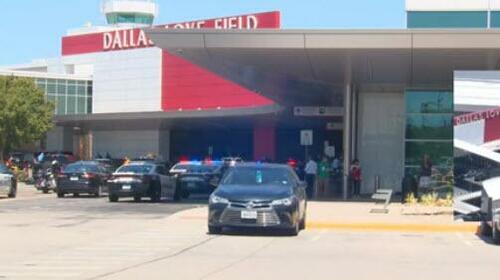 Rockwall Police Chief Max Geron, a former Dallas Police Department commander, tweeted about 11:20 a.m. that he "just got evacuated of Love Field after an apparent shooting."
"Family is safe," Geron tweeted. "TSA did a great job."
Just got evacuated out of Love Field after an apparent shooting. Family is safe. TSA did a great job.

— Chief Max Geron (@ChiefGeron) July 25, 2022
All flights inbound to Dallas Love are currently being held at their departure location until 12:30 p.m., the FAA says.
Watch Live: