---
Fani Swatted After CNN Legal Expert Calls Trump Charges 'Unnecessary'
Authored by Jack Phillips via The Epoch Times (emphasis ours),
A prominent media analyst and former prosecutor suggested this week that the charges made by the district attorney in Fulton County, Georgia, against former President Donald Trump under the state's racketeering law are "unnecessary" and only add to Mr. Trump's allegations of a "Democratic Party pile on."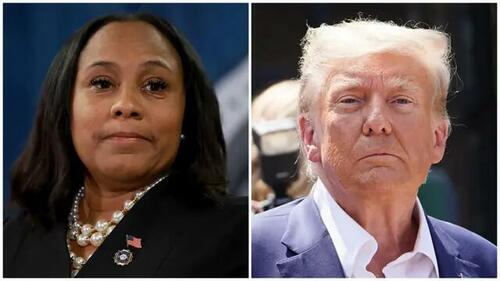 Elie Honig, a former federal prosecutor and now a media legal analyst, told a podcast this week that federal special counsel Jack Smith already charged the former president with alleged election-related offenses "and in seven states in particular, including Georgia."
Notably, Mr. Honig, a former assistant U.S. attorney for the Southern District of New York, has been publicly critical of the former president, and he is now a senior legal analyst for CNN. He's also penned a critical book about former Trump Attorney General William Barr called "Hatchet Man."
He asked whether Fulton County District Attorney Fani Willis' indictment is for the "greater good and why is it promoting public confidence in the fairness of this [process] to have one of those seven state prosecutors pile on with a charge of her own? I don't think it serves any greater good," he stated, adding that Ms. Willis indicted him on partisan grounds.
"I disagree with the exercise of prosecutorial discretion by an elected county prosecutor, a partisan, with a D next to her name," he said, referring to the Democratic Party.
There are differences between the Georgia and the federal election cases, he then claimed, saying they essentially serve the same purpose.
"I think it makes Trump's chances of being convicted and punished higher if that's the only goal here. If that's the only goal, all seven states: Michigan, New Mexico, and on down the line, should be charging him too, but that would be ludicrous," the former prosecutor said.
Last month, the Fulton County District Attorney's office indicted President Trump and 18 co-defendants under Georgia's expansive anti-racketeering law, claiming that he and the others engaged in efforts to illegally overturn the 2020 election results in the state. All have pleaded not guilty and some defendants have attempted to get their charges thrown out.
Federal Judge Steve Jones last week rejected the attempt by Trump White House chief of staff Mark Meadows to move his case to federal court and sent it back to state court, but Meadows is appealing that ruling. The four others who have already filed notice to move their cases have hearings before Jones scheduled for next week.
It came after a Fulton County grand jury last month accused them of participating in an illegal scheme to keep the incumbent Republican president in power after the election against President Joe Biden.
Republicans in her state and in Congress have accused Ms. Willis's office of engaging in a politically motivated attack on the former president as he ramps up his 2024 presidential campaign as the leading GOP candidate.
In August, State Sen. Colton Moore, a Republican from Georgia's northwest corner, recently doubled down on his calls for a special session to take money away from Willis' office and consider her impeachment.
"Fani Willis is spending millions of our taxpayer dollars to take on political prisoners. It's the most un-American thing that we've ever seen in our lifetime," Mr. Moore told the crowd at a rally near the state Capitol last month.
However, Republican Gov. Brian Kemp dismissed the calls in a news conference in which he angrily criticized state Republicans for running a "grifter scam" to raise money from Trump supporters. Without Kemp's support, a special session is impossible unless Republicans can get 60 percent of all legislators in each house of Georgia's General Assembly to support it.
Meanwhile, Ms. Willis said last month in announcing the charges that she wanted to try all 19 defendants together, including President Trump and other high-profile individuals such as former Mayor Rudy Giuliani and attorney Sidney Powell.
Two of the people charged have filed speedy trial demands, and Judge Scott McAfee set their trial for Oct. 23. At a hearing last week, he said it seemed "a bit unrealistic" to imagine that all of the defendants could be tried that soon and asked prosecutors for a brief explaining why they felt that was necessary.
Lawyers Kenneth Chesebro and Sidney Powell are the two who have filed speedy trial demands. They also requested to be tried separately from each other, but Judge McAfee denied that request. Mr. Chesebro is accused of working on the coordination and execution of a plan to have 16 Georgia Republicans sign a certificate declaring that President Trump won in 2020. Mrs. Powell is accused of participating in an alleged breach in rural Coffee County.
Loading...