---
Farmers Break Through Police Blockade, Leading Trucker Convoy Closer To US-Canada Border
Truckers for "Freedom Convoy" were greeted by farmers who used their tractors to penetrate the Royal Canadian Mounted Police's (RCMP) roadblocks at the Canada-US border in Coutts, Alberta, as talks broke down.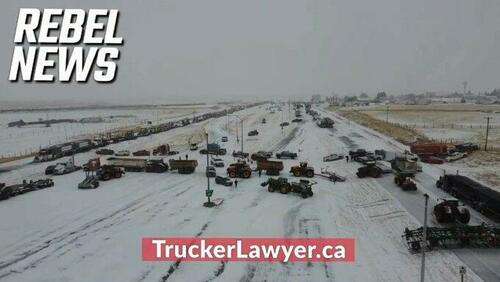 True North and Rebel News reported farmers joined to strengthen the convoy as negotiations in Coutts between the truckers and Mounties collapsed on Tuesday afternoon. 
BREAKING: Negotiations are over and police are ready to move in.

RCMP is opening the highway regardless.

Truckers now have a grace period to leave or be arrested and held.

STAY TUNED

HELP THEM AT https://t.co/HejJhb4xFA pic.twitter.com/fllVgVMj4B

— K2 (@kiansimone44) February 1, 2022
RCMP tried to establish a barricade, but that failed as farmers broke through and led a convoy of truckers closer to the border with Montana. 
#CanadaTruckers Farmers break through RCMP barricades setup near Coutts, #Alberta to help support the border blockade. Peaceful but resolute. Have fun finding a tow truck. pic.twitter.com/UThxIvRpOL

— Radio-Az (@Edward_Sn0wden) February 2, 2022
Farmers and truckers stepped out of the respective tractors and trucks and sang the national anthem of Canada, "O Canada," in unison. Apparently, Prime Minister Justin Trudeau (who, by the way, is still in hiding and is triple-jabbed after testing positive for COVID-19), has called these folks "fringe" and "racists." 
Alberta/Montana border.

Farmers singing O Canada!

Thank you Farmers!#FreedomConvoy2022 pic.twitter.com/sW0hnXbD70

— WorldWideNews24 (XII) (@News24Wide) February 2, 2022
Maybe Trudeau is the "racist" one?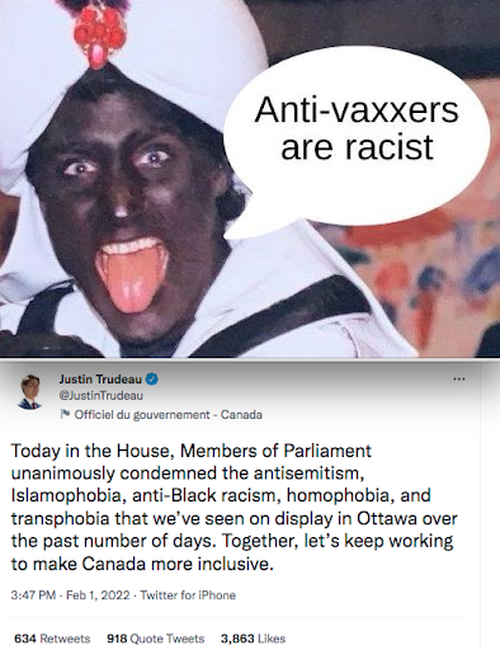 Here's a drone video of the convoy on the border from last night. 
Aerial of Coutts border blockade right now

Help their legal defence at https://t.co/FgSvcLwSPy pic.twitter.com/8xHxBaUzgR

— Syd Fizzard (@SydFizzard) February 2, 2022
Canada's freedom rally is being watched worldwide as ordinary citizens band together and protest medical tyranny by the government. 
Elon Musk, the richest man on the planet, recently tweeted Canadian truckers "rule." Joe Rogan has said the "country is in revolt." 
Canada is in revolt, and the president is in hiding; people are standing up for their medical freedom -- this is something governments have yet to deal with in the last two years of the pandemic. The world is watching Canada, and these demonstrations are spreading worldwide.