---
Fauci Inks Deal With New Italian 'Anti-Pandemic' Bio Lab
Submitted by Mark Pellin via Headline USA (emphasis ours),
Still dodging public accountability while drawing a hefty government check for his myriad COVID failures, Anthony Fauci has reportedly already landed a new gig tinkering with more viruses, vaccines and possibly another plan-demic.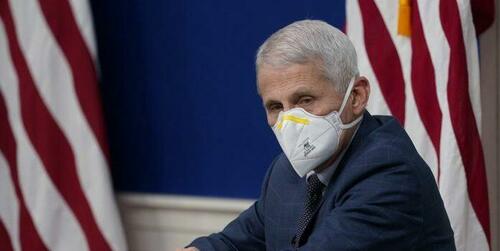 The mask-mandate monarch has agreed to a consultancy role for a newly created "anti-pandemic" bio lab, which is being funded by the Italian government, The Dossier reported.
"American immunologist Anthony Fauci has agreed to act in an informal capacity as a strategic advisor to Rino Rappuoli, scientific director of the Biotecnopolo biotech hub in Siena, an institution founded by the Ministries of the University, Health, Economy and Industry with the aim of focusing on applied research in biotechnologies and life sciences, the Fondazione Biotecnopolo announced this week," reported Italy's ANSA news wire service.
Flying under the innocuous moniker Biotecnopolo, officials described the lab as "an anti-pandemic hub with a particular focus on the development and production of vaccines and monoclonal antibodies for the treatment of emerging epidemic-pandemic pathologies." The lab has already received copious funding upwards of hundreds of million Euros from Rome.
Fauci came under considerable fire for his links to gain-of-function research through the cutout group EcoHealth Alliance, which ultimately had direct links to China's Wuhan lab, where a growing amount of evidence indicated the COVID virus originated.
Bio-lab board members gushed praise for Fauci in a press release, informing that his experience would prove "a fundamental step towards making the Biotecnopolo the Italian hub for the research, study and prevention of pandemics."
Biotecnopolo's scientific director Rino Rappuoli comes with his own tawdry set of baggage from his work as head of vaccine research and development at GSK, nee Big Pharma's GlaxoSmithKline, infamous for shelling out a record $3 billion settlement for health-care fraud, The Expose reported.
Rappuoli also holds a professorship at Imperial College, London, whose concocted and widely skewered computer stimulations helped spark COVID madness.
"Last year, Fauci spoke at a conference organized by GSK on the 'role of vaccines in protecting people and the planet,'" wrote Dossier investigative journalist Jordan Schachtel.
"So Fauci has now linked up with Big Pharma heavyweights and he's an advisor for a clandestine bio lab project being financed by the Italian government. What could possibly go wrong?"
Loading...