---
13 Charged In Foiled Militia Plot To Kidnap Michigan Governor
Update (1515ET): Michigan Attorney General Dana Nessel held a press conference to announce state charges against the militia conspirators in a plot to kill and/or kidnap Michigan Gov. Gretchen Whitmer.
Michigan Attorney General Dana Nessel said that seven other individuals "linked" to the militia group the Wolverine Watchmen have been charged under Michigan's anti-terrorism law. https://t.co/4RqvkFWdkh pic.twitter.com/d2SgJvCA2G

— ABC News (@ABC) October 8, 2020
In addition to the six alleged militia members charged by the Feds earlier, another seven alleged members of the militia group, known as the "Wolverine Watchmen", were charged in the conspiracy and have all been taken into custody for purportedly trying to target law enforcement officials. That brings the total arrested to 13, according to the AP.
"The individuals in custody are suspected to have attempted to identify home addresses of law enforcement officers in order to target them, made threats of violence intended to instigate a civil war, and engaged in planning and training for an operation to attack the capitol building of Michigan, and to kidnap government officials, including the governor of Michigan," AG Nessel said.
The AG then explained that the charges are still subject to change once federal law enforcement officials review all the evidence collected during a raid of 24-year-old Ty Garbin's home in Hartland on Wednesday night.
On social media, leftists took things a step further, as they tried to connect the members of the Wolverine Watchmen to the Oklahoma City bombing carried out by alleged militia member Timothy McVeigh.
We are talking about that middle line. And look: "2019 was the most lethal year for extremism in the United States since the Oklahoma City bombing in 1995" (2) pic.twitter.com/HpRlSVRukm

— Kathleen Belew (@kathleen_belew) October 6, 2020
And calling for President Trump to be indicted as a co-conspirator.
The Whitmer kidnap plot is disgusting & elaborate- tasers, tactical gear, IEDs, encrypted comms & surveillance. These criminals would have killed law enforcement that were protecting her. Thanks to the many agencies that stopped this. This is Trump inspired violence. Charge him.

— Tom Joseph (@TomJChicago) October 8, 2020
Nessel listed each charge, including felony counts for providing material for a terrorist attack, felony counts for terrorist acts, gang membership charges, and charges for possessions of a firearm, and the names of all the militia members charged in the alleged plot.
More on the ideology of one of the men who was busted by the FBI for a plot to kidnap Governor Gretchen Whitmer. In this video he poses in front of an anarchist flag to tell people that the Declaration of Independence is an anarchist document. Brandon Caserta is an anarchist. pic.twitter.com/7PgQkYrNIQ

— Robby Starbuck (@robbystarbuck) October 8, 2020
* * *
The FBI says it foiled a plot by six members of a militia to kidnap Michigan Democratic Gov. Gretchen Whitmer at her vacation home and overthrow the state government, according to an unsealed criminal complaint.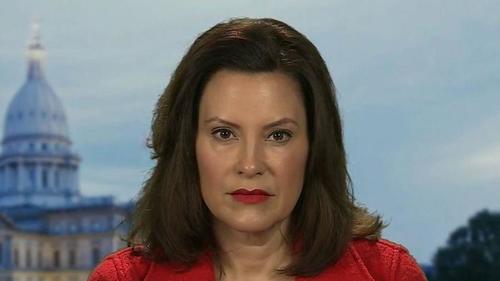 "Several members talked about murdering 'tyrants' or 'taking' a sitting governor," according to an FBI agent. "The group decided they needed to increase their numbers and encouraged each other to talk to their neighbors and spread their message."
Over 12 people were arrested late Wednesday on both state and federal charges, while a core group of six alleged plotters were charged with conspiring to kidnap Whitmer.
Four of the six men reportedly planned to meet on Wednesday to "make a payment on explosives and exchange tactical gear," the agency said in an unsealed court filing.
The FBI quoted one of the accused as saying Whitmer "has no checks and balances at all. She has uncontrolled power right now. All good things must come to an end."

Authorities scheduled a Thursday afternoon news conference to talk about the case. The government used informants and undercover agents to thwart the alleged plot. -AP
Two of the alleged conspirators "agreed to unite others in their cause and take violent action against multiple state governments that they believe are violating the U.S. Constitution," reads the FBI criminal complaint - which names the six as Adam Fox, Ty Garbin, Kaleb Franks, Daniel Harris, Brandon Caserta, all of Michigan, as well as Barry Croft of Delaware.
Great statement from the Republican leader of the Michigan State Senate. https://t.co/gZBQwjL2mv

— Frank Luntz (@FrankLuntz) October 8, 2020
Fox allegedly said he needed 200 men to storm the Capitol building in Lansing, take hostages, and try Whitmer for "treason." The plan was to be carried out before the Nov. 3 election, however the the suspects later shifted to kidnapping Whitmer at her vacation home.
In June, Croft, Fox and 13 others from multiple states held a meeting in Dublin, Ohio, near Columbus, according to the government.

Those present included an FBI confidential source who recorded the meetings. The source has been paid $8,600.

"The group talked about creating a society that followed the U.S. Bill of Rights and where they could be self-sufficient," the FBI agent wrote. -The Detroit News
According to NPR, state AG Dana Nessel will join federal prosecutors to discuss the alleged conspiracy at 1 p.m. Thursday.
The investigation began in early 2020, according to the complaint, however the unsealed complaint comes days after the Michigan Supreme Court struck down several of Whitmer's pandemic restrictions which had been widely opposed.
In early 2020, the FBI became aware through social media that a group of individuals were discussing the violent overthrow of certain government and law-enforcement components. Among those individuals identified were CROFT and FOX. Through electronic communications, CROFT and FOX agreed to unite others in their cause and take violent action against multiple state governments that they believe are violating the U.S. Constitution.
"They discussed different ways of achieving this goal from peaceful endeavors to violent actions. At one point, several members talked about state governments they believed were violating the U.S. Constitution, including the government of Michigan and Governor Gretchen Whitmer," reads the complaint. "As part of that recruitment effort, Fox reached out to a Michigan-based militia group."
The militia group is not identified in the court filing, but members periodically meet in remote areas of the state for firearms training and tactical drills.

The FBI was already tracking the militia in March after a local police department learned members were trying to obtain addresses of local law-enforcement officers, the FBI agent wrote.

"At the time, the FBI interviewed a member of the militia group who was concerned about the group's plans to target and kill police officers, and that person agreed to become a (confidential source)," the agent wrote

In late June, Fox posted on Facebook a video in which he complained about the state's judicial system and COVID-19 restrictions on gyms operating in Michigan. -The Detroit News
"Fox referred to Governor Whitmer as 'this tyrant bitch," adding "'I don't know, boys, we gotta do something,'"
"You guys link with me on our other location system, give me some ideas of what we can do."