---
FBI Creates 'MAGA' Extremist Category, Targets Trump Supporters Ahead Of 2024 Election
The Biden FBI has 'quietly created a new category of extremists that it seeks to track and counter: Donald Trump's army of MAGA followers' ahead of the 2024 election, according to prolific (and well connected) anti-war journalist and political commentator, William Arkin, who has previously reported on the FBI's efforts to "Fight MAGA Terrorism."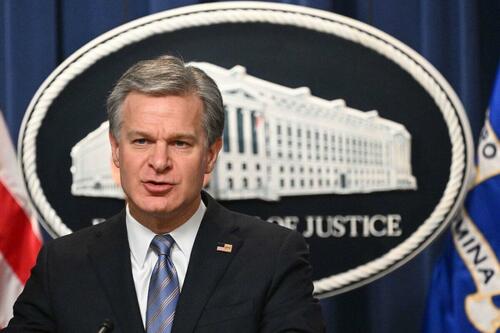 In a Wednesday Newsweek article, Arkin reveals that the vast majority of FBI investigations into "anti-government" activities are of Trump supporters.
"The FBI is in an almost impossible position," a current FBI official told Arkin, who added that the agency's stated intent is stopping a repeat of January 6th type incidents (which was riddled with feds), while balancing the Constitutional right of Americans to protest the government "Especially at a time when the White House is facing Congressional Republican opposition claiming that the Biden administration has 'weaponized' the Bureau against the right wing, it has to tread very carefully," the official continued.
Newsweek spoke to over a dozen current or former government officials who specialize in terrorism in a three-month investigation to understand the current domestic-security landscape and to evaluate what President Joe Biden's administration is doing about what it calls domestic terrorism. Most requested anonymity because they were not authorized to talk publicly, were reluctant to stray into partisan politics or feared the repercussions of speaking frankly.

Newsweek has also reviewed secret FBI and Department of Homeland Security data that track incidents, threats, investigations and cases to try to build a better picture. While experts agree that the current partisan environment is charged and uniquely dangerous (with the threat not only of violence but, in the most extreme scenarios, possibly civil war), many also question whether "terrorism" is the most effective way to describe the problem, or that the methods of counterterrorism developed over the past decade in response to Al-Qaeda and other Islamist groups constitute the most fruitful way to craft domestic solutions.
We would note that an FBI whistleblower in March claimed that the agency pressured him to inflate domestic terrorism figures against conservatives, and that the agency created a specific threat tag for pro-lifers "THREATSCOTUS2022" following the leaked Supreme Court opinion on abortion (and not a threat tag for the violent leftists who threatened SCOTUS justices?).
The FBI told Newsweek in a statement that: "The threat posed by domestic violent extremists is persistent, evolving, and deadly. The FBI's goal is to detect and stop terrorist attacks, and our focus is on potential criminal violations, violence and threats of violence. Anti-government or anti-authority violent extremism is one category of domestic terrorism, as well as one of the FBI's top threat priorities," adding "We are committed to protecting the safety and constitutional rights of all Americans and will never open an investigation based solely on First Amendment protected activity, including a person's political beliefs or affiliations."
According to the FBI's data leaked to Arkin, the number of domestic extremism cases has dropped since Jan 6, but that "Sociopolitical developments—such as narratives of fraud in the recent general election, the emboldening impact of the violent breach of the U.S. Capitol, conditions related to the COVID-19 pandemic, and conspiracy theories promoting violence—will almost certainly spur some domestic terrorists to try to engage in violence."
So - while the threat that the FBI has encouraged agents to inflate may have fallen, they're on the lookout!
The agency has even created a new subcategory of threats, "AGAAVE-Other," to denote those who are a threat but don't fit into its anarchist, militia or Sovereign Citizen categories.
Introduced without any announcement, and reported here for the first time, the new classification is officially defined as "domestic violent extremists who cite anti-government or anti-authority motivations for violence or criminal activity not otherwise defined, such as individuals motivated by a desire to commit violence against those with a real or perceived association with a specific political party or faction of a specific political party." -Newsweek
Trump or MAGA aren't directly menti0oned in the official description of AGAAVE-Other, however "government insiders acknowledge that it applies to political violence ascribed to the former president's supporters."
"What other name could we use?" said one FBI officer, who added: "Obviously if Democratic Party supporters resort to violence, it [AGAAVE-Other] would apply to them as well. It doesn't matter that there is a low likelihood of that. So yes, in practical terms, it refers to MAGA, though the carefully constructed language is wholly nonpartisan."
Sure anonymous FBI guy... there's a 'low likelihood' that Democrats (the party which the FBI's top brass belong to) aren't causing political violence. Did someone get into Hunter's crack stash?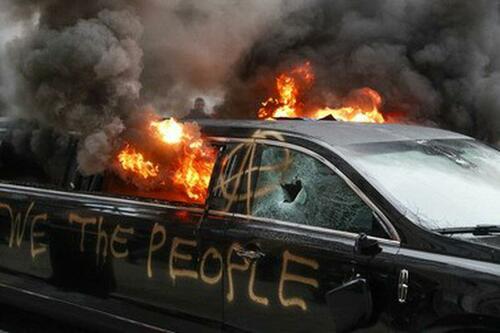 Thick smoke in the air from cars peeling out at the Portland anti trump protest. #electionday #election2016 pic.twitter.com/mxOIIR7UBb

— Michael (@michaelbivins44) November 9, 2016
Protesters set fires and break windows into the early morning in #Oakland. #HesNotMyPresident and #StillWithHer trending in #SanFrancisco. pic.twitter.com/fdVaQChP5z

— Natasha Zouves (@natashanzouves) November 9, 2016
Summer of 2020 peaceful protest Minnesota, Oregon, DC. pic.twitter.com/dgJ5FVn8Ik

— Maddie Adams (@MaddieAdams75) October 4, 2023
More:
3 cops, pepper spray used in arrest of Sen. Tim Kaine's son near Trump rally at Capitol
 "100% Antifa" Portland Shooting Suspect Brought Loaded Gun To July Riot
 "We Know Where You Sleep At Night": Antifa Mob Whose Founder Loves Assassination Targets Tucker Carlson At Home
As The Federalist perfectly notes;
Despite widespread, leftist-led and encouraged riots during the 2020 summer of rage, FBI data says that spikes in domestic violent extremism and domestic terrorism investigations in 2020 and 2021 "show clearly that the main targets of the investigations and cases open were of Trump supporters," not the people who wreaked billions of dollars of damage on American cities.

Similarly, "assessments," a shadowy tool used by the FBI to spy on Americans who have political or ideological associations deemed unfavorable by the agency, "more than doubled from 2019 to 2021."

A drastic rise in politicized probes of Trump voters follows an avalanche of rhetoric touted by President Joe Biden, his White House, Democrats in Congress, Attorney General Merrick Garland, FBI Director Christopher Wray, and other officials who have named the "domestic extremism" often pinned on Republican voters as the nation's biggest threat.

The increase also serves as a continuation of the Biden regime's persecution of its number one political opponent and his popular brand of wrongthink ahead of the 2024 presidential election.
Totally 'not weaponized.' 
Loading...