---
Damage Control: Bubba Wallace Abandons Noose Narrative After Embarrassing CNN Interview
Hours after an embarrassing CNN interview in which he clung to the noose theory (see below), NASCAR's Bubba Wallace backpeddled with a Wednesday tweet - in which he appears to acknowledge that a garage pull in his bay at Talladega Supserspeedway wasn't a noose.
June 24, 2020
In other words, after going 'full Smollett,' Bubba likely hired a crisis management firm which advised him to dispense with the noose talk and issue a statement he should have made the second after the FBI concluded there was no foul play.
Oh yeah, and all the panty-twisting I did with fellow whiner, Don Lemon, yesterday? Ignore that, okay? Sorry I wasted y'alls time! Sincerely, Jussie Wallace pic.twitter.com/OD8BPKxRqg

— James Woods (@RealJamesWoods) June 24, 2020
*  *  *
Bubba Wallace acknowledged on Tuesday night that a garage pull in the shape of a noose in his bay at Talladega Superspeedway in Lincoln, Alabama wasn't meant for him after the FBI concluded that it had been there since late 2019.
Bubba doesn't care.
Speaking with CNN's Don Lemon, Wallace said "it was a noose. It was a noose - whether it was tied in 2019 or whatever, it was a noose. Wasn't directed at me but somebody tied a noose (which one would think might consistently tighten around the hand of whoever pulls it, if it were indeed a noose).
Bubba Wallace to Don Lemon:

"I've been racing all of my life. We've raced out of hundreds of garages that never had garage pulls like that... It's a straight up noose." pic.twitter.com/uYrp9QYFWI

— Daily Caller (@DailyCaller) June 24, 2020
Earlier in the interview, Wallace said that 'people don't want to hear the truth' about the situation, insisting of his haters: "One thing you'll never take away from me is how 100% I am. How raw I am. How real I am. And I'll shoot it to you straight each and every time."
More:
"I'm pissed. I'm mad because people are trying to test my character and the person that I am and my integrity." - NASCAR driver Bubba Wallace on social media reaction to the conclusion of the FBI investigation into the noose found in his team's garage https://t.co/YH4ynYqv64 pic.twitter.com/fB0m9Yj9FD

— CNN Tonight (@CNNTonight) June 24, 2020
In addition to 'raw' and 'real,' Bubba's also a 'bad sport' if you cause him to spin out during a race.
Done for good with Nascar ...

Show him the door—Disgraceful, bad sportsmanship ~> #BubbaWallace pic.twitter.com/LUq7om5PxJ

— ERIN CRUZ FOR CONGRESS (CA-36) (@RealErinCruz) June 23, 2020
*  *  *
From 'conspiracy theory' to 'fact'...
A 'noose' which was 'found hanging in NASCAR driver Bubba Wallace's garage' turns out to be a garage pull which has been there since October, 2019 - while Wallace was assigned that garage last week, according to the FBI.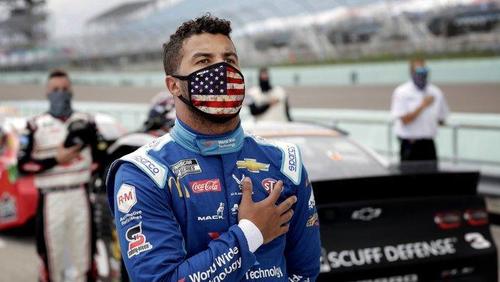 Of course, the outrage mob - including LeBron James - whipped up racial division over the non-incident in a tweet which has received 66,000 'likes,' while the hashtag #iStandWithBubba trended on Twitter.
"On Monday, fifteen FBI special agents conducted numerous interviews regarding the situation at Talladega Superspeedway," reads an FBI statement. "After a thorough review of the facts and evidence surrounding this event, we have concluded that no federal crime was committed."
"Although the noose is now known to have been in garage number 4 in 2019, nobody could have known Mr. Wallace would be assigned to garage number 4 last week."
BREAKING: FBI concludes no federal crime was committed in Bubba Wallace noose investigation. It had been in the garage since October 2019 pic.twitter.com/3aQXNx7Iav

— Jack Posobiec (@JackPosobiec) June 23, 2020
On Tuesday, Wallace went on The View and called Wallace dismissed what the New York Post framed as 'conspiracy theories' over the noose incident being staged, or never happening. The day before, Wallace told Fox Sports reporter Jamie Little "Sorry I'm not wearing my mask, but I wanted to show whoever it was that you're not going to take away my smile."
So - to all you Talladega facilities managers, you didn't take away Bubba's smile.
And this is why you shouldn't jump to conclusions. It only took a day but NASCAR couldn't wait that long. pic.twitter.com/fw7ifqPthb

— Nick Short (@PoliticalShort) June 23, 2020
As the outrage mob frothed over yet another fake noose incident, cooler heads began to circulate the 'garage pull' evidence - long before the FBI cracked the case mind you.
2) Go to video at 00:53 and you'll see Bay #4 the before picture. (screengrab)https://t.co/fdirk0yJ5H pic.twitter.com/68hyV90jBL

— TheLastRefuge (@TheLastRefuge2) June 23, 2020
4) Here's the picture of Garage Bay #4 (taken Monday) with some notations to help: pic.twitter.com/FZjslo3n8a

— TheLastRefuge (@TheLastRefuge2) June 23, 2020
6) And finally here's the side-by-side that shows the manual garage door pull hand loop in place [Nov '19] and the hand loop (purposefully identified as a "noose") missing or cut-off [June 22, 2020]

cc: @NASCAR @NASCARONFOX @NASCAR_Xfinity pic.twitter.com/2hb2ebdtPU

— TheLastRefuge (@TheLastRefuge2) June 23, 2020