---
FBI Lawyer Hoped Justice Department Would 'Reconsider' 2021 Memo On Alleged School Board Threats
Authored by Ryan Morgan via The Epoch Times (emphasis ours),
Documents the FBI recently released show that a lawyer for the agency expressed her reservations about a draft version of U.S. Attorney General Merrick Garland's Oct. 4, 2021 memo that initiated a controversial federal effort to investigate alleged harassment at school board meetings around the country.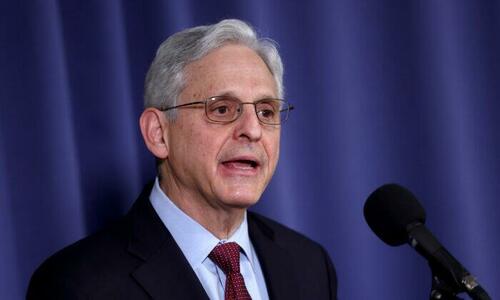 The documents, which the America First Legal Foundation (AFL) recently obtained through a Freedom of Information Act (FOIA) request, showed FBI attorney Miriam Coakley expressed her hope that Garland and the U.S. Department of Justice (DOJ) would reconsider their actions.
"Not sure if you've seen this/weighed in—it was just raised to my attention," Coakley wrote in an Oct. 4, 2021 email to Corey Frazier Ellis. Ellis was serving at the time as chief of staff for FBI Director Christopher Wray before Garland appointed him in December of that year to serve as the Interim U.S. Attorney for the District of South Carolina.
"I hope DOJ reconsiders," Coakley added in her email.
After Coakley contacted him, Ellis raised the issue to Norman Wong, the then director of the DOJ's Executive Office for United States Attorneys (EOUSA), writing "we are asking that the memo be revised," to which Wong replied: "It's a little too late."
The DOJ proceeded to publish Garland's memo that day, along with a larger press statement describing the formation of a task force that would include the FBI and the DOJ's Criminal, National Security, and Civil Rights Divisions.
2021 Garland Memo Set Off Controversy
At the time, Garland and the DOJ cited "an increase in harassment, intimidation and threats of violence against school board members, teachers and workers" in their decision to launch the new DOJ task force.
The new task force came as parents had been protesting school boards around the country over their COVID-19 policies and the inclusion of critical race theory (CRT) principles in school curricula. On Sept. 29, 2021—just days before Garland's memo—the National School Boards Association (NSBA) sent a letter (pdf) to President Joe Biden and the DOJ, raising concerns about disruptions to school board meetings and claiming the harassment they were experiencing was akin to domestic terrorism or hate crimes. The NSBA letter called on the DOJ to use its National Security and Counter-terrorism components to investigate these school board incidents and use counter-terrorism laws—like the PATRIOT Act—to prosecute them.
The NSBA letter and Garland's subsequent decision to form a new task force to investigate disruptions at schools and school board meetings received pushback from Republican officials. A Group of State Attorneys General sent a letter (pdf) disputing the NSBA's claims and arguing that the DOJ's subsequent actions could be used as a pretext to chill lawful free speech.
The NSBA went on to retract its letter and said "there was no justification for some of the language included in the letter." Despite that NSBA retraction, Garland continued to defend his decision to form the new DOJ task force.
"All it asks is for federal law enforcement to consult with, meet with local law enforcement to assess the circumstances, strategize about what may or may not be necessary to provide federal assistance, if it is necessary," Garland said in response to questions at the time from Sen. Chuck Grassley (R-Iowa) and Sen. John Cornyn (R-Texas). Garland said his memo "alters some of the language in the [NSBA] letter that we did not rely on."
Read more here...
Loading...