---
FCC Commissioner Blasts Net Neutrality Revival Proposal As "Serious Mistake"
Authored by Caden Pearsen via The Epoch Times,
A member of the Federal Communications Commission (FCC) on Tuesday argued that suggestions by its chairwoman to reinstate Obama-era net neutrality regulations would be a "serious mistake."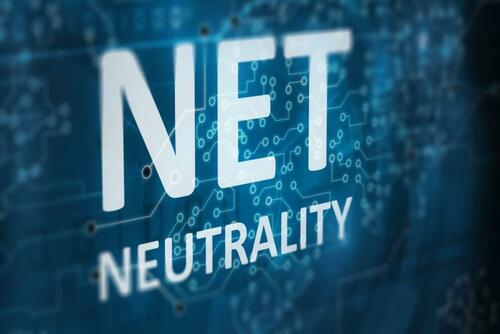 FCC Commissioner Brendan Carr, a vocal opponent of net neutrality rules, voiced strong reservations about FCC Chairwoman Jessica Rosenworcel's proposal to reinstate the rules, which she announced during a National Press Club address earlier on Tuesday, reigniting a fierce debate over the future of broadband regulation.
The net neutrality regulations were originally implemented during the Obama administration in 2015 but were subsequently repealed under the leadership of former President Donald Trump.
Net neutrality rules aim to prevent internet service providers (ISPs) from potentially favoring those with considerable financial resources to pay extra fees for more bandwidth, while blocking or throttling internet traffic to certain websites.
Supporters view the rules as beneficial, as they would compel ISPs such as AT&T, Comcast, and Verizon, to process all internet traffic equally regardless of the content of the web traffic. Critics argue that the internet experienced significant growth after the rules were repealed in 2017 and that it worked reasonably well without such regulations.
In his statement on Tuesday, Mr. Carr pointed to recent Supreme Court rulings that he believes cast serious doubt on the legal viability of reviving net neutrality rules. He argued that such an endeavor would divert the FCC's focus away from more pressing matters.
"If people are interested, whether in Congress or here, in finding a way to put bright-line rules in place that avoid all the collateral damaging consequences that come from utility-style regulation of the internet, then those are conversations that should take place," Mr. Carr said.

"But opening the door to going back down this path of utility regulation of the internet would be a serious mistake."
Jessica Rosenworcel speaks onstage during The 36th Annual Hispanic Heritage Awards at Kennedy Center Eisenhower Theater in Washington on Sept. 7, 2023. (Leigh Vogel/Getty Images for Hispanic Heritage Foundation)
Revival of Net Neutrality
Mr. Carr's opposition comes at a pivotal time following the recent confirmation of Anna Gomez, a Democrat, as an FCC commissioner. Ms. Gomez's appointment has shifted the balance in favor of Democrat commissioners, potentially paving the way for the revival of net neutrality rules.
The FCC is overseen by a panel of five commissioners, each selected by the president and approved by the Senate to serve five-year terms. The president designates one of them as the chair, and no more than three commissioners can belong to the same political party.
Earlier on Tuesday, Ms. Rosenworcel, whom President Barack Obama appointed as a commissioner in 2011 and whom President Joe Biden appointed as chair in 2021, proposed resurrecting net neutrality rules.
She intends to release the full text of the proposal on Thursday and bring it to a vote in mid-October, initiating the rulemaking process.
Ms. Rosenworcel has repeatedly said that the proposed net neutrality rules closely mirror those implemented during the Obama administration and criticized their repeal during Republican leadership in 2017.
During her National Press Club remarks, Ms. Rosenworcel argued broadband is an "essential infrastructure for modern life," citing the reliance on broadband during the COVID-19 pandemic as a reason why the service is a necessity, "not a luxury."
"No one without it has a fair shot at 21st century success," she said.
"We need broadband to reach 100 percent of us, and we need it to be fast, open, and fair."
"I believe this repeal of net neutrality put the FCC on the wrong side of history, the wrong side of the law, and the wrong side of the American public," Ms. Rosenworcel added.
"It was not good then, and it makes even less sense now."
Mr. Carr's forceful opposition presents a formidable challenge to Ms. Rosenworcel's vision and highlights the division within the FCC.
In May 2021, Mr. Carr told the Senate Republican Policy Committee that the FCC made the right decision in 2017 when it overturned the Obama-era net neutrality rules.
"Obviously, the doomsday claims that were made about our decision marking 'the end of the internet as we know it' were all proven false," he said.
"Not only does the internet still work, it actually works better," he continued.
"Since overturning the Obama-era regulations, internet speeds and investment are up, prices are down, competition has increased, and the resiliency of our networks is unmatched throughout the world."
In 2017, the net neutrality debate was marked by both sides foretelling dire outcomes if their opponents had their way.
Loading...