---
FDA Finds 'Signal' For Seizures Among COVID-19 Vaccinated Toddlers
Authored by Zachary Stieber via The Epoch Times (emphasis ours),
A safety signal of seizures for young children following COVID-19 vaccination has been detected by the U.S. Food and Drug Administration (FDA).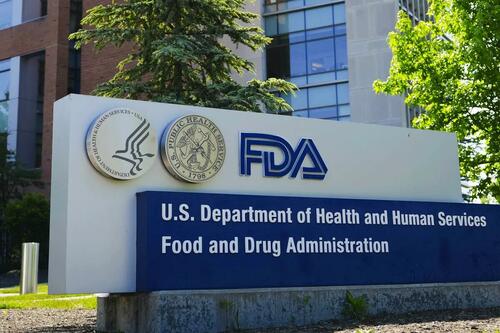 Seizures/convulsions "met the statistical threshold for a signal" in children aged 2 to 4 following receipt of a Pfizer COVID-19 vaccine and children aged 2 to 5 following receipt of a Moderna COVID-19 vaccine, researchers with the FDA and three large healthcare companies said in a new preprint study.
A safety signal is a sign that a health condition may be caused by vaccination, but further research is required to verify a link.
The data came from three health claims databases run by Optum, Carelon Research, and CVS Health, supplemented with vaccination information from state and local systems. The health claims databases are part of the FDA's Biologics Effectiveness and Safety System, a drug safety monitoring system.
Researchers looked at 15 health conditions following vaccination entered in the commercial databases and compared rates among children aged 6 months old to 17 years old to background rates from 2019, 2020, or both.
Overall, 72 cases of seizures/convulsions were recorded within seven days of a shot among toddlers and other young children. Most happened within three days of a shot.
When stratifying the data by dose, the researchers found signals for dose one and dose two for Pfizer's shot in two of the three databases in children aged 2 to 4. They also found a signal following dose two of Moderna's shot in children aged two to five.
The signal for seizures/convulsions for the young children "has not been previously reported for this age group in active surveillance studies of mRNA COVID-19 vaccines," the researchers said, referring to the Pfizer and Moderna shots.
There are reports of seizures and convulsions after COVID-19 vaccination among children in the Vaccine Adverse Events Reporting System, the researchers noted. Though anybody can lodge reports with the system, most are made by health care professionals.
Another five convulsions were reported after Pfizer vaccination in Pfizer's clinical trial.
The research did not cover the bivalent COVID-19 vaccines, which were introduced for some populations in 2022 and completely replaced the old vaccines in April, or the newest versions of the vaccines that were rolled out in September. It's not clear when the signal was first detected. The FDA and Patricia Lloyd, an FDA statistician who is the study's corresponding author, did not respond to requests for comment. Pfizer and Moderna did not return inquiries.
Caution Warranted: Researchers
The researchers said the signal "should be interpreted with caution and further investigated in a more robust epidemiological study."
That's partly because the signal disappeared when changing background rate years.
The signal was detected when comparing rates with background rates from 2020. But when using background rates from 2022, which were about 2.3 times higher, a signal was not detected.
The higher number of cases in 2022 may stem from an increased incidence of respiratory infections such as influenza, the researchers posited.
The case count may have also included seizures "unrelated to vaccination," the researchers said.
Similar to previously analyzed data from the same system, the researchers also detected a signal for heart inflammation and a related condition, or myocarditis and pericarditis, for children aged 12 to 17. Because that signal has been known since 2021, researchers did not attempt to further explore it.
No other signals were detected.
Strengths of the study include the population covered by the databases being large and geographically diverse. Limitations include a lack of control of confounding factors.
Stroke Risk in Elderly
The FDA and the U.S. Centers for Disease Control and Prevention in January announced they detected a signal for ischemic stroke for people aged 65 or older following receipt of Pfizer's bivalent vaccine. Ischemic stroke is a type of stroke caused by blood clotting.
In another preprint paper published on Oct. 15, FDA researchers said they analyzed Medicare data to estimate the risk of stroke after bivalent vaccination.
They included Medicare beneficiaries aged 65 or older who received a bivalent shot or an influenza vaccine and suffered stroke, except for stroke cases deemed to have been caused by something other than a COVID-19 shot.
The primary analysis did not identify an increased risk of stroke, but stratifying the population by age showed an increased risk after Pfizer vaccination for people aged 85 or older of non-hemorrhagic stroke and for non-hemorrhagic stroke/transient ischemic attack. An increased risk was also found for Moderna recipients aged 65 to 74 for non-hemorrhagic stroke/transient ischemic attack.
No increased risk was found for hemorrhagic stroke.
For people who received a Pfizer jab with an influenza shot, an elevated risk of non-hemorrhagic stroke was detected. For people who received a Moderna jab with an influenza shot, an elevated risk of transient ischemic attack was detected.
A separate analysis of only influenza vaccination detected an increased risk of non-hemorrhagic stroke following receipt of a high-dose/adjuvanted influenza shot, and signals for different ages upon stratification.
"Our study did identify an elevated risk of stroke when the COVID-19 bivalent vaccines were administered with a concomitant high-dose/adjuvanted influenza vaccine. However, the observed effects were not consistent," the researchers, with the FDA and Acumen, said.
A similar finding was detected in a study of data from the Centers for Disease Control and Prevention's Vaccine Safety Datalink system.
The researchers said that the study's findings suggest the elevated risk of stroke in the group that received influenza and COVID-19 vaccines together "was likely driven by influenza vaccination alone rather than concomitant administration."
Loading...