---
Federal Judge Dismisses Felony Obstruction Charge In Second Jan. 6 Case In Eight Days
Authored by Joseph Hannemann via The Epoch Times,
For the second time in eight days, U.S. District Judge Carl J. Nichols has dismissed a felony obstruction charge alleging a Jan. 6 defendant tried to prevent the certification of Electoral College votes in the 2020 presidential race.
Nichols ruled in the case of USA v. Joseph W. Fischer that the statute used by prosecutors—18 U.S.C. § 1512(c)(2)—does not apply to the allegations against the defendant.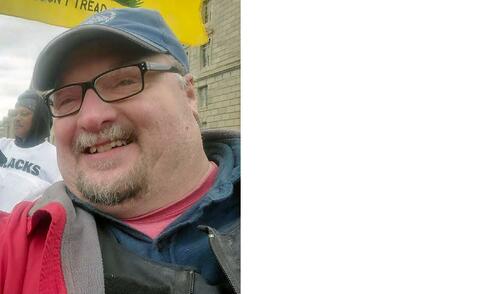 Joseph Wayne Fischer, 55, of Jonestown, Pa. (U.S. Department of Justice/Screenshot via The Epoch Times)
The 1512 subsection of the U.S. Code is meant to prevent tampering or destruction of documents and records, not alleged attempts to derail certification of the presidential election results, Nichols said.
"Nothing in Count Three (or the superseding indictment generally) alleges, let alone implies, that Fischer took some action with respect to a document, record, or other object in order to corruptly obstruct, impede or influence Congress's certification of the electoral vote," Nichols wrote in a 10-page ruling.

"The Court will therefore grant Fischer's motion to dismiss Count Three."
Nichols threw out the same charge on March 7 in the case of Garret A. Miller, 35, of Richardson, Texas. Miller faces 11 other Jan. 6-related charges.
Judge Nichols is still considering Fischer's motion to dismiss Counts 4 and 5 of the indictment, both of which have to do with his alleged presence and behavior in a "restricted building or grounds."
Under U.S. Code, "restricted" means "any posted, cordoned off, or otherwise restricted area of a building or grounds where the President or other person protected by the Secret Service is or will be temporarily visiting."
Fischer, 55, of Jonestown, Pa., argued that this part of the statute does not apply to Jan. 6. Vice President Mike Pence could not have been temporarily visiting the Capitol because he had a permanent office as president of the U.S. Senate, and was present in his official role on Jan. 6.
During oral arguments on Feb. 28, prosecutors said they are willing to amend the superseding indictment against Fischer to state that two members of Pence's immediate family were present for the counting of Electoral College votes.
Judge Nichols gave the U.S. Department of Justice 14 days to either amend the indictment or state on the record why it will not do so.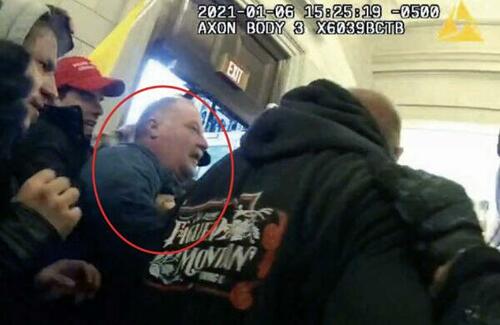 Joseph W. Fischer in a crowd that prosecutors say pushed against a police line on Jan. 6, 2021. (U.S. Department of Justice/Screenshot via The Epoch Times)
Fischer was indicted in November 2021 (pdf) on seven charges, including civil disorder; assaulting, resisting or impeding police; disorderly conduct in a Capitol building; parading, demonstrating or picketing in a Capitol building; and the three charges mentioned above.
Prosecutors said Fischer—a patrolman with the North Cornwall Township Police Department in Pennsylvania—posted a nearly 3-minute video to Facebook. Text appeared with the video that said, "Made it inside … received pepper balls and pepper sprayed. Police line was 4 deep."
Judge Nichols is the first in the District of Columbia Circuit to rule that subsection 1512 cannot be applied to behaviors that disrupted or attempted to disrupt certification of election results.
In five recent Jan. 6 cases, Judges Amit P. Mehta, Timothy J. Kelly, Dabney L. Friedrich, Randall D. Moss, and James E. Boasberg rejected motions to dismiss the charge of obstructing a government proceeding.
Loading...