---
Feds Have No Data On How Regulations Reduce Emissions: Audit Finds
Authored by Marnie Cashcart via The Epoch Times,
The federal government does not know the extent that regulations are reducing greenhouse gas (GHG) emissions, despite committing $200 billion towards the issue.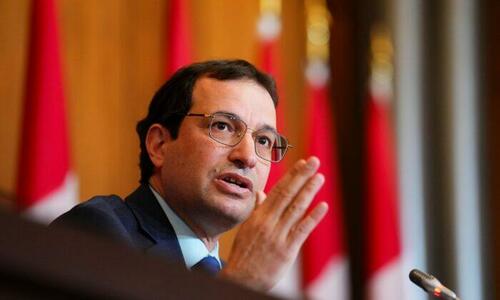 Jerry DeMarco, commissioner of the Environment and Sustainable Development, holds a press conference in Ottawa on April 20, 2023. (The Canadian Press/Sean Kilpatrick)
An April 20 report released by the Commissioner of the Environment and Sustainable Development, Jerry DeMarco, indicates that Environment and Climate Change Canada does not attribute emission results to specific regulations.
The federal department does not measure, or report on, the contributions of each regulation toward meeting the set target for 2030. An audit by the commissioner concluded that Environment Canada "used modelling approaches to estimate greenhouse gas emission reductions."
The federal government does not know if regulations to limit methane emissions are achieving their target, said the report. The audit found that large sources of methane emissions were unaccounted for in inventories and not covered by any existing regulations.
The audit considered five regulations with the stated intent to reduce emissions from vehicles on the road, power plants, and oil and gas production.
DeMarco concluded, "Without comprehensive impact information, the federal government does not know whether it is using the right tools to sufficiently reduce emissions to meet its target."
The audit suggested some regulations, targeted at reducing emissions from power generation, achieved the targeted level, while regulations intended to reduce vehicle emissions failed to meet their target.
"Although greenhouse gas emissions from passenger cars decreased, this was offset by even larger increases in emissions for light trucks and heavy-duty vehicles, such as school and transit buses and freight, delivery, garbage, and dump trucks," said the report.
The audit also said the government took "too long to develop regulations given the urgency of the climate crisis." The report was critical that it took more than five years to develop the Clean Fuel Regulations, which was double the initial plan.
The Liberals first promised to plant 2 billion trees by 2031 on the campaign trail in 2019, and said the country would cut emissions from 42 to 45 percent lower than 2005 levels. The country only cut 8.4 percent of emissions between 2005 and 2021, according to the most recent national greenhouse gas inventory report.
The audit found the country isn't on track to plant even one-tenth of the promised trees by the deadline, despite a $3.2 billion allocation in the 2020 fall economic statement.
"There is no solution to climate change and terrestrial biodiversity loss that does not include forests," DeMarco's report said.

"It is unlikely that the two billion trees program will meet its objectives unless significant changes are made."
On the emissions front, the audit indicates the federal government committed to eliminating 2 million tonnes of greenhouse-gas emissions yearly, by 2030. Now the Liberal government said it will not start reducing emissions until 2031, at the earliest.
Loading...