---
Feed Shortage Leads To Pig Cannibalism, China's Economy Worsens
Authored by Alex Wu via The Epoch Times (emphasis ours),
A video showing pigs eating a deceased pig on a farm in China went viral recently. Some of the pig farmers, working for a major Chinese financial group, said that the cannibalism occurred because of feed shortages. One expert believes that feed shortages are a reflection of bigger problems in China's economy.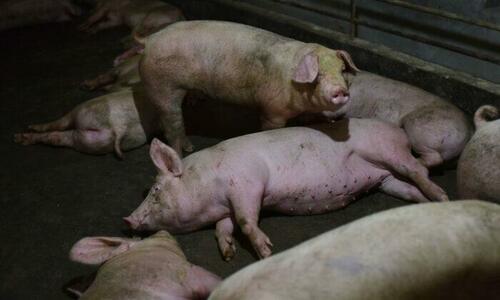 Since July 24, the video has been one of the most searched topics on Chinese social media, putting a spotlight on the listed company and a major pig farming company, Jiangxi Zhengbang Tech (whose subsidiary is Jiangxi Zhengbang Breeding Co.), that contracted the farmers to raise the pigs. Posts about the company have been circulating online, such as "the farmers' pig feed supply was cut off," "the chairman of Zhengbang was restricted from buying high-end products," "the company's fundraising was delayed," and "the company's court ordered total amount of compensation reached 100 million yuan (about $14.8 million)," etc.
It caused the stock of Zhengbang Tech to fall 6.66 percent to 5.89 yuan (about $0.87) per share on July 25. The company then issued several announcements in response to the issues.
On July 25, Zhengbang Tech admitted that there were interruptions to the pig feed supply in July, citing the downturn in pig prices in June, COVID-19, the company's funds being tight, logistics issues, and problems in coordination with the feed producers. There's no mention of compensation for the pig farmers in the statement.
The company's statements did not affirm or deny that pig cannibalism occurred on the farms.
Bigger Financial Issues
In addition, a "necessary reminder" was included in the Zhengbang statement. It said: "The company's net profit in the first half of 2022 is expected to lose 3.8 billion to 4.6 billion yuan (about $563 million to $682 million)." The statement has increased worries from the outside world about the company's "shortage of funds."
Independent current affairs commentator Tang Jingyuan told The Epoch Times on July 27, that there are two main reasons for Zhengbang Tech's shortage of pig feed. "One is a shortage of funds, and there may even be a break in the capital chain. The other is that the COVID-19 epidemic has caused the logistics system to be blocked, which is the problem with the coordination of logistics distribution and feed mills mentioned in the company's official statement. Behind these two reasons, the root cause is actually that the economic environment in mainland China has deteriorated due to the regime's zero-COVID policy and measures, resulting in a vicious cycle of mutual causation between the two reasons mentioned above."
"The deterioration in China's economy is largely caused by policy mistakes rather than a natural disaster. Zhengbang Tech is only one of the countless companies that pay for it," he said.
Loading...