---
Feinstein, Fetterman Hospitalizations May Mean Trouble For Democrats
Authored by Jack Phillips via The Epoch Times (emphasis ours),
Senate Democrats have little room for error after Sen. Dianne Feinstein (D-Calif.) announced she was hospitalized with shingles on Thursday and amid Sen. John Fetterman's (D-Penn.) ongoing treatment for clinical depression.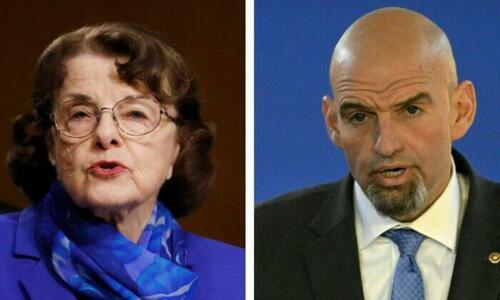 On Thursday, Feinstein, 89, said she was hospitalized with the virus and won't return until "later this month," while Fetterman, 53, was hospitalized at Walter Reed National Military Medical Center to treat clinical depression last month. It's not clear when Fetterman will be released.
Two other senators this week missed votes, including Sen. Jeff Merkley (D-Ore.) and Sen. Mike Crapo (R-Ind.) Merkeley said in a statement that he is in Oregon to deal with a "family matter," while Crapo reportedly is suffering from illness.
Because of absences this week, the Senate is deadlocked at 48–48, forcing Vice President Kamala Harris to cast tie-breaking votes for Democrats. When Crapo and Merkley return, the Senate will be tied at 49–49.
With no time-table provided for either Fetterman's or Feinstein's respective returns to the Senate, some analysts say that Democrats could face problems when trying to confirm President Joe Biden's nominees.
This week, the Senate voted 49–48 in favor of one of Biden's judicial picks, Margaret Guzman, and also voted 49–48 to confirm Araceli Martinez-Olguin to serve as a federal judge in the Northern District of California.
"Slim majorities are always challenging, but especially so in today's Senate," Sarah Binder, political science professor at George Washington University's Columbian College of Arts and Science, told Newsweek on Thursday. "There are not many legislative measures on tap in the Senate, but Democrats will feel the pinch of a tied Senate whenever they try to confirm a controversial nominee."
"In those cases, Democrats will need Vice President Harris back in the chair to break a tied vote to cut off debate on a confirmation vote," Binder added. "That might slightly slow down Democrats and encourage them to focus on nominees who have some support from across the aisle."
In an interview with Fox News, strategist Doug Heye said that "the danger of having such a small majority is that one or two illnesses can bring things to a halt," noting the White House "has been aggressive and effective on judicial nominees, but that's all on hold for now."
Read more here...
Loading...