---
FEMA Chief Responds To Kamala Harris Claim About Prioritizing 'Communities Of Color'
Authored by Jack Phillips via The Epoch Times (emphasis ours),
The head of the Federal Emergency Management Agency (FEMA) said that the administration will "support all communities" following a remark by Vice President Kamala Harris that "communities of color … are most impacted" by hurricanes.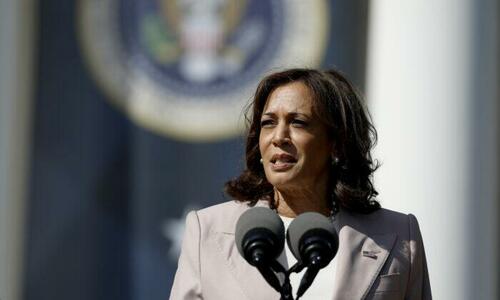 About a day after Hurricane Ian ravaged Florida, Harris made the remarks and said that those communities are most "impacted by these extreme conditions" and that "we are all thinking about the families in Florida and Puerto Rico with [Hurricane] Fiona and what we need to do to help them in terms of an immediate response and aid."
"We have to address this in a way that is about giving resources based on equity, understanding that we fight for equality, but we also need to fight for equity … sometimes we have to take into account those disparities," she said.
After the dreadful hurricane in Florida @VP Kamala Harris says that the rebuilding of the infrastructure will be decided by "giving resources based on equity" by directing funds to "communities of color." pic.twitter.com/42PIVs22M1

— David Atherton (@DaveAtherton20) October 1, 2022
FEMA Director Deanne Criswell was asked about the vice president's comments during a CBS News interview on Sunday.
"We're going to support all communities," Criswell said in response. "I committed that to the governor, I commit to you right here that all Floridians are going to be able to get the help that is available to them through our programs."
She added: "One of the things that I have known and I have experienced responding to other disasters is that there are people that often have a hard time accessing our programs, there's barriers to our program."
A spokesperson for Florida Gov. Ron DeSantis, Christina Pushaw, asserted that Harris's comment was unhelpful and is causing panic among victims of Ian.
"Can you clarify what you meant about 'equity' for hurricane relief?"

Kamala Harris refuses to answer. pic.twitter.com/abTJcjkJoJ

— RNC Research (@RNCResearch) October 3, 2022
Harris's remark "is false," Pushaw wrote on Twitter, adding that it is "causing undue panic and must be clarified. FEMA Individual Assistance is already available to all Floridians impacted by Hurricane Ian, regardless of race or background. If you need assistance visit disasterassistance.gov or call 1-800-621-3362."
In a separate Twitter post, Pushaw called on Harris to "correct what she said."
Other than Pushaw, others provided Harris with negative feedback over the remark. "Should be according to greatest need, not race or anything else," wrote Tesla CEO Elon Musk in response.
Nearly 850,000 homes and businesses were still without electricity Sunday, down from a peak of 2.67 million, after Ian struck.
Read more here...
Loading...