---
Florida Gov DeSantis Sues CDC To Force Reopening Of Cruise Industry
A few weeks ago, cruise stocks slumped after the CDC extended a moratorium on cruises to November, even as packed flights with barely-compliant travelers wearing masks on their chins while eating and drinking have been the norm for months.
The industry is already facing the obstacle of re-selling the public on taking cruises after myriad outbreaks aboard cruises run by Royal Caribbean were blamed for facilitating the early spread of the virus. The incidents also drew attention to the fact that cruises are essentially floating petri dishes (although sales have rebounded more quickly than some might have anticipated).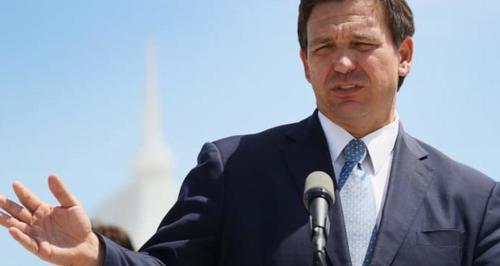 In what he characterized as an effort to aid the thousands of Floridians employed by the cruise industry, Fla. Gov Ron DeSantis announced Thursday that the state will file a lawsuit against the CDC, demanding cruise ships be allowed to resume sailing immediately.
"On behalf of the tens of thousands of Floridians whose livelihoods depends on the viability of an open cruise industry, today Florida's fighting back," he announced in a press conference on Thursday. "We don't believe the federal government has the right to mothball a major industry for over a year, based on very little evidence and very little data."
He tweeted that federal law doesn't give the CDC the power to shut down an industry indefinitely.
We must fight to get our cruise liners and their employees back to work and safely sailing again. To be clear, no federal law authorizes the @CDCgov to indefinitely shutdown an entire industry.

— Ron DeSantis (@GovRonDeSantis) April 8, 2021
This lawsuit is necessary to protect Floridians from the federal government's overreach and resulting economic harm to our state. https://t.co/I0uLeBzZqZ

— Ron DeSantis (@GovRonDeSantis) April 8, 2021
In comments to the press reported by CNBC, DeSantis called the CDC's decision to delay the opening of the US cruise industry "irrational", saying he believes that this lawsuit will have a "good chance for success."
Royal Caribbean announced Thursday it would be extending the suspension of some of its trips that depart from US ports. Royal Caribbean International, Celebrity Cruises and Silversea Cruises trips will be suspended until June 30, while trips leaving from new home ports in other areas of the world are still operating on schedule.
Last week, The governor signed an executive order on Friday forbidding so-called vaccine passports, which will also apply to the cruise industry, saying that private and public businesses are not required to show proof of vaccination.