---
Florida Governor Announces Additional $289 Million To 'Improve Student Achievement And Close Learning Gaps'
Authored by Patricia Tolson via The Epoch Times,
During a 10:30 a.m. press conference at the City of Hialeah Educational Academy in Hialeah, Florida, Gov. Ron DeSantis announced an additional $289 million will be set aside for "programs that will improve student achievement and close learning gaps."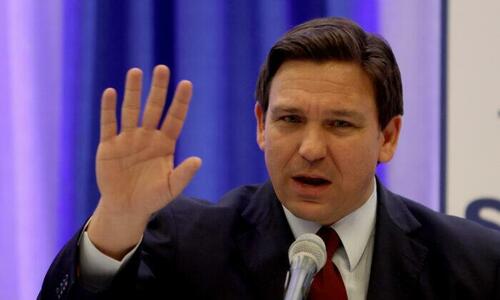 One day after DeSantis signed SB 1048—a bill that transitions from Florida Standards Assessments testing into progress monitoring—and two days after the Florida Senate passed a record-breaking $112.1 billion state budget proposal, DeSantis announced a fully-funded $289 million program that will provide children with opportunities to seek career options outside of academic disciplines by offering certification programs in high-demand, high-skilled career fields such as law enforcement, nursing, and fire rescue. These are the career fields that suffered personnel losses during lockdowns imposed due to the CCP (Chinese Communist Party) virus, commonly known as the novel coronavirus. Another Florida education program, STEM, guides children toward careers in "science, technology, engineering, and mathematics."
DeSantis said "there's a huge, huge demand" in nursing and anyone going into the field is going "to have a lot of opportunities as they get beyond school."
According to DeSantis, the new $289 million education and career program includes $105 million for "after school, weekend and summer learning camps that will help struggling students catch up." Another $47 million will be available to purchase curriculum that falls in line with Florida's new standards in English, math, civics, and Holocaust education. DeSantis said another $50 million is earmarked for reading intervention and professional development for reading coaches, citing how "early literacy is the key."
"If you have kids at third grade that are reading up to grade level, those kids are likely going to be fine" and "have a pathway to college, if that's what they want to do," DeSantis said. But if a child "is deficient by third grade," their future opportunities diminish.
As The Epoch Times reported Jan. 2, America's education system is failing as the goals for maintaining high academic standards are being replaced with a focus on social constructs like critical race theory and social-emotional learning. Recent government data shows the average fourth grader has only a 41 percent proficiency level in mathematics. By the eighth grade, that proficiency level drops to 34 percent. By the twelfth grade, the average American student has a proficiency level of only 24 percent in math.
STEM programs will receive $44 million, an additional $22.5 million will fund programs to help parents reinforce what's being taught in classrooms at home, and another $5 million will help establish regional mental health resiliency teams to support districts with delivering services to students.
"This is an example of really meeting needs that exist in a really big way," DeSantis said.
Loading...