---
Florida LGBT Group Cancels Pride Parade After City Says No Kids Allowed
Well...this is awkward.  The city of Port St. Lucie in southeastern Florida was scheduled to host a gay pride parade organized by the "Pride Alliance of the Treasure Coast," but there was just one caveat - No kids allowed.
In accordance with legislation ready to be signed into law by Governor Ron DeSantis the city allowed the pride parade to take place but required all attendees to be 21 or older due the sexualized nature of the performances common during such events.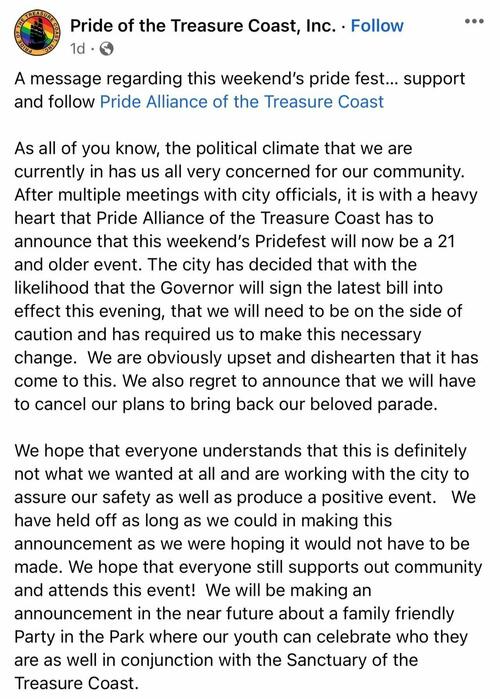 The Florida House has sent a bill to Desantis that is set to ban children from attending adult-oriented performances, including drag shows. The bill defines "adult live performances" as "any show, exhibition, or other presentation that is performed in front of a live audience and in whole or in part, depicts or simulates nudity, sexual conduct, sexual excitement, specific sexual activities, … lewd conduct, or the lewd exposure of prosthetic or imitation genitals or breasts."
These rules would make the majority of pride parades a no-go for children given they violate nearly every item on the list.
Strangely, rather than following the new requirements and ensuring that only adults over 21 attend the event, the Treasure Coast organization took to Facebook to announce that they would cancel the parade entirely.  In other words, if they can't have the kids, there's no point to the parade.  Their statement notes:
"The city has decided that with the likelihood that the Governor will sign the latest bill into effect this evening, that we will need to be on the side of caution and has required us to make this necessary change. We are obviously upset and dishearten[ed] that it has come to this. We also regret to announce that we will have to cancel our plans to bring back our beloved parade."
The group suggests it will return with a more "family friendly" event in the future, though the question remains - Why cancel the previous event?  Why not simply check IDs?
Dozens of states across the country are moving to ban children from sexual displays as drag shows for kids become the primary activist strategy for the political left.  Trans activists claim the shows are about acclimating children to "acceptance and tolerance", while opponents argue that the shows are about indoctrination with perhaps even darker underlying intentions.   
It's unfortunate that state governments need to legally intervene to protect children from these kinds of graphic demonstrations.  Generally, one would expect parents to have the good sense to keep their kids away.  But the existing ideological dynamic has made the sexaulization of children into a political tool, and so states like Florida are left with little choice. 
Loading...