---
Florida Sets Tourism Record For 2021
Authored by Jannis Falkenstern via The Epoch Times,
Florida is open for business, welcoming nearly 118 million domestic visitors in 2021, and surpassing pre-pandemic visitation levels for two quarters in a row.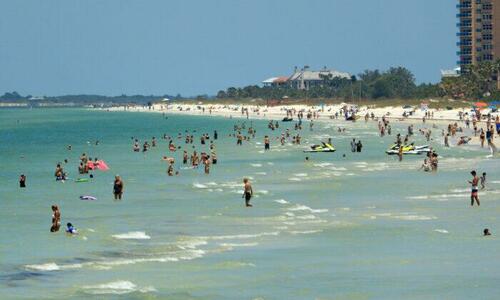 Florida Gov. Ron DeSantis (R.) was all smiles on Feb. 15 as he announced that the number of visitors to the Sunshine State between October and December 2021 was almost 31 million, marking the second consecutive quarter that overall visitation has surpassed 2019, pre-pandemic levels.
"In 2021, Florida received nearly 118 million domestic visitors from all over the U.S. In the last two quarters of 2021, tourism exceeded 2019 pre-pandemic numbers by seven percent," the governor said at a press briefing.  "So, Florida is one of the few places in the world where more people are visiting now than before the pandemic. Compared to 2019 Quarter four, domestic tourism in 2021 Quarter four was 7 percent higher."
Being called "the freest state in the United States" by DeSantis may well account for why Florida was chosen as a destination by so many. Some travelers were families on a fun vacation, while others were more recognizable as "lockdown politicians."
"You have governors that have locked down their states, imposed mandates, imposed restrictions; you have big city mayors that have imposed lockdown policies," the governor said.

"You have people on TV news networks that advocate for restrictions and lockdowns and almost all of them have been criticizing Florida for a year and a half–yet many of them are part of our visitation figures."
Among those seen in Florida over the past two years was Michigan Gov. Gretchen Whitmer, who visited in April 2021, maskless, while urging her constituents to stay home and "mask up." 
She denied her trip was a vacation, saying that she was checking on her "ailing, elderly father" who owns property in Florida.
CNN's Don Lemon was also spotted poolside, also maskless, after criticizing the governor for his policies on COVID-19.
Other noteworthy visitors were New York Congresswoman Alexandria Ocasio-Cortez, who got a welcome tweet from the governor, and California Congressman Eric Swalwell, seen maskless in the lobby of a Miami hotel.  Both members of Congress have urged the use of masks and vaccine mandates throughout the pandemic and have openly criticized their Republican counterparts for failing to enforce such measures.
DeSantis said the tourist development tax revenues increased 74 percent over 2020 figures, which "may not be that surprising" as people did not want to travel as much because of initial concern over COVID-19 when not as much was known about the virus.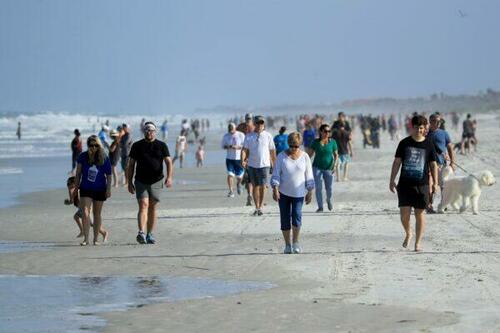 People are seen at the beach in Jacksonville Beach, Fla., on April 17, 2020. (Sam Greenwood/Getty Images)
The U.S. travel industry predicted in 2021 that domestic trips across the nation would finally climb out of the slump caused by the Chinese Communist Party (CCP) virus in 2023, and finish with growth three percent above pre-pandemic levels; international tourism was not expected to recover to 2019 levels until 2025.
While tourism in other states was practically paused, Florida aggressively marketed outside its borders for seven months and saw steady growth in visitor volume each quarter. Quarter four of 2021 was no exception with almost 31 million visitors, according to the Visit Florida website.
After third quarter 2021 tourism numbers were announced, Danny Gaekwad, owner of MGM Hotels and chairman of the Visit Florida board of directors said the influx of visitors was a "huge win" for the state, calling Florida "an undisputed leader in the U.S. travel sector."