---
Flurry Of Competing Bills Complicates Effort To Bar Stock Trading By Members Of Congress
American lawmakers are swiftly evaluating a handful of options available to them as various Democratic factions join with rivals and even some Republicans to try and ban sitting members of Congress from actively trading single-name stocks.
According to the Hill, what started as an unlikely campaign almost a decade ago has, in the span of just a few weeks, has evolved into a popular crusade that has finally drawn the support of party leaders, including Chuck Schumer and Nancy Pelosi, both of whom have finally walked back their opposition. Pelosi said late this week that she would deputize one Democratic representative to choose among the various plans circulating on Capitol Hill.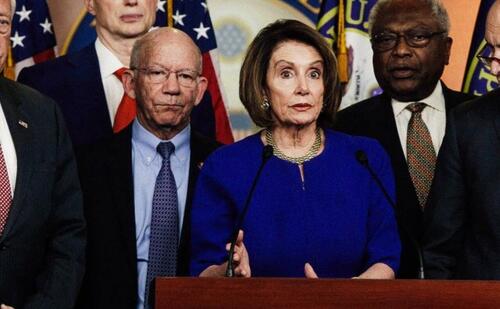 As Rep. AOC said earlier this week, forcing Congress to reform itself isn't exactly a winning proposition.
"It's not easy to have an institution block itself from practices that it can currently be engaged in," said Rep. Alexandria Ocasio-Cortez earlier this week. "The people at home watching have made it too difficult to ignore."
But after numerous scandals involving both Dems (including Pelosi) and Republicans (including Sen. Richard Burr and a handful of representatives, both Republicans and Democrats).
Supporters of the tougher restrictions maintain that, even if no laws are broken, the current system can create damaging public perceptions that lawmakers are trading on nonpublic information.
"People need to be able to have confidence that policymakers are making decisions on what's best for the country, not what's best for their own bottom line," said Sen. Sherrod Brown. "It really is as simple as that."
As for bills that would bar stock trading by members of Congress, an already crowded field is growing increasingly packed. Pelosi has even suggested that a stock trading ban transcend Congress and also apply to the Supreme Court, the Fed and other institutions.
"What we're trying to do as a group is make sure we don't lose sight of the central premise of the immediate effort. That is, we have a deeply poisonous problem of members trading in individual stocks while they're writing policy. And that's just unacceptable," Merkley said.

"Now we're going to have to work to bring everybody into a common effort and make sure that this happens," he added "and we don't get distracted or lost in the field of every possibility."
While the bill takes shape, there are a number of considerations that  lawmakers will need to sort out, including whether the ban should expand to lawmakers' spouses, family members and their staff.
One bill first introduced by Reps. Abigail Spanberger and Chip Roy, which they first introduced in 2020, would require all members of Congress, along with their spouses and dependent children, to place their assets into a blind trust. Another bill from Democratic Sens. Jon Ossoff and Mark Kelly introduced a similar measure last month requiring assets to be placed into a blind trust. And under another proposal from Rep. Subramanian Raja Krishnamoorthi, the ban would extend to spouses and senior staff. It has also been kicking around for years, giving it an advantage on the vetting front.
Whichever proposal wins out, lawmakers will likely have it figured out before the midterms as Dems scramble to try and win back some of the public trust they have squandered over the years.