---
Former Black Panther Discovers One Of Her White Ancestors Arrived On The Mayflower
Authored by Matt McGregor via The Epoch Times,
A radical social justice Marxist and former member of the Black Panthers discovered that one of her ancestors arrived in the New World from England on the 1620 Mayflower expedition.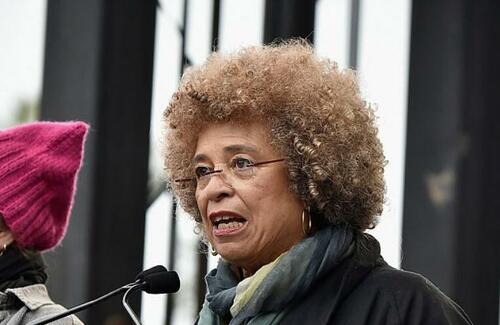 On Tuesday's PBS episode of "Finding your Roots," Henry Louis Gates, Jr. interviewed Angela Davis, whom he said came to the show to have the mystery of her lineage solved.
In the show's final moments, Gates revealed that the investigation into her ancestry dated back to her tenth great-grandfather, a white man named William Brewster, who was born in England in 1570 and traveled to America on the Mayflower.
A visibly stunned Davis said, "No, I can't believe this. My ancestors did not come here on the Mayflower. That's a little bit too much to deal with right now."
Marxist Angela Davis, Who Teaches That America Was Built By Racist Colonizers, Finds Out Her Ancestors Was On The Mayflower pic.twitter.com/j7XBpthT69

— 757 Patriot (@757patriot) February 26, 2023
Davis emerged in California during the late 1960s as a prominent civil rights figure and a member of the Communist Party.
She's continued to support radical, far-left politics, and is currently a professor at the University of California in Santa Cruz.
Amid her social justice activism, Davis was placed on the FBI's Ten Most Wanted Fugitives list for her alleged involvement in the armed seizure of a Marin County Courthouse in California that left four people dead, including a judge.
It had been shown that Davis purchased the guns used in the attack.
Davis went into hiding but was eventually arrested and charged with murder, kidnapping, and criminal conspiracy charges.
She was imprisoned for 16 months before being released on bail and later acquitted by an all-white jury in 1972.
Born in Jim Crow-era Birmingham, Alabama, Davis told Gates she had always assumed that her ancestors were slaves.
While that's partially true on her grandmother's side, she also descends from slave owners, a piece of information that runs contrary to the message of the current social justice movement for which Davis advocates.
Critical Race Theory
Davis has been a proponent of Critical Race Theory (CRT), a variation of a concept put forth by German philosopher Karl Marx called "Critical Theory," which divides people between oppressors and the oppressed.
The CRT variation of the theory focuses on the concept of "white supremacy" in that it labels white people as the oppressors and all other races as the oppressed while blaming white people of today for slavery that took place in the past.
...
Descended From a Patriot Slave Owner
According to the lineage, Davis's mother was named Salley Belle, and Belle's father was a white Alabama attorney and lawmaker named John Austin Darden.
This was another surprise to Davis.
When Gates pointed out that John Austin Darden was a prominent member of the community, Davis asked, "Well, was he a member of the Klu Klux Klan or the White Citizen's Council? That's something I would also want to know because in those days, if one wanted to achieve that power one had to thoroughly embrace white supremacy."
The information of her lineage only drifted further from the social justice dogma.
Her fourth great-grandfather, Stephen Darden, was born in colonial Virginia in 1750, and later served in the Revolutionary War.
After the Revolutionary War, Darden moved from Virginia to Georgia, where he owned a farm and six slaves.
Angela's grandmother, Mollie Spencer, lived next door to a white man named Murphy Jones, whom the genetic profile showed to be Davis' grandfather.
Jones and Spencer had four children together. Murphy later sold Spencer 22 acres of land for $200, PBS reported.
On processing the information about her ancestry, Davis told Gates, "I always imagined my ancestors as the people who were enslaved. My mind and my heart are swirling with all of these contradictory emotions."
Loading...