---
Four Proud Boys, Including Leader, Found Guilty Of Seditious Conspiracy In Jan. 6 Riot
Four out of five members of the Proud Boys were found guilty on Thursday of seditious conspiracy related to the Jan. 6, 2001 Capitol riot.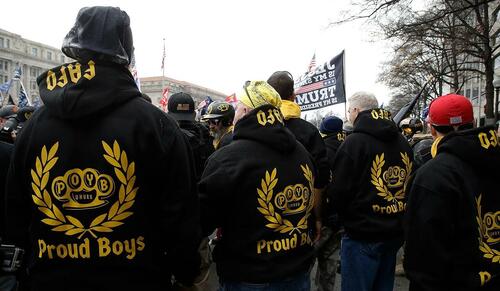 Proud Boys leader Enrique Tarrio, along with Joseph Biggs, Ethan Nordean and Zachary Rehul were found guilty of seditious conspiracy and conspiracy to obstruct an official proceeding, however the jury is currently deadlocked on those two charges for another member, Dominic Pezzola, according to Politico's Kyle Cheney.
There is no "obstruction of Congress" charge. It's "obstruction of an official proceeding." But the proceeding they're charged with obstructing is Congress' Jan. 6 joint session.

— Kyle Cheney (@kyledcheney) May 4, 2023
Pezzola was found guilty of robbery, destroying government property and one count of assaulting a law enforcement officer.
As Just the News reports, the jury is still deliberating over whether all Proud Boys are guilty of a separate charge of assaulting or impeding a law enforcement officer.
The jury is also deliberating whether all of the Proud Boys, except Pezzola who was found guilty of it, should be convicted of destroying government property.

Additionally, the jury is deliberating a charge against all five men for allegedly assaulting law enforcement.

Thursday was the sixth day of jury deliberation in the trial of the five men, who each faced nine counts related to the Jan. 6, 2021, riot, including a charge of seditious conspiracy that was leveled under a Civil War-era law.
According to NBC News, Pezzola faced an additional charge after video footage showed him smashing a window with a Capitol Police shield.
According to Pezzola's attorney, at least 40 undercover informants were involved in the riot - with one FBI informant who joined the group testifying that he understood he was able to break the law in certain circumstances.
Kelly dismissed multiple requests from the defendants to declare a mistrial. For example, last month, Pezzola asked him to declare a mistrial or dismiss the charges against him over allegations of government misconduct. -Just the News
Before the verdict was read, the DOJ urged Judge Timothy Kelly to send jurors back to deliberate on non-unanimous counts. Kelly decided to accept the partial verdict, and asked the jury to continue deliberating on the remaining counts.
Loading...