---
Fox News Weatherman 'Beaten By Group Of Teens' On NYC Subway Train
Authored by Katabella Roberts via The Epoch Times (emphasis ours),
Fox News meteorologist Adam Klotz said on Jan. 22 that he had been badly beaten by teenagers on a subway train in New York while making his way home from a bar.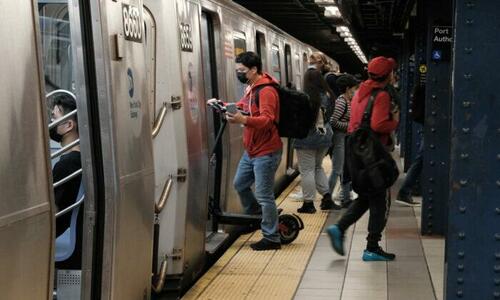 The 37-year-old, who began working at the network in 2017, took to Instagram to share a video of himself with what appeared to be bruised and battered eyes.
"Hear me out, though: You should see the other guy," Klotz quipped while zooming in to show what looked like red and purple bruising around his eyes and across his cheeks. "My side—oh, don't laugh—my side is so much worse than my face."
The meteorologist then went on to explain that the "other guy" was not actually a "guy" but "five or six children" before questioning "where are the parents?!"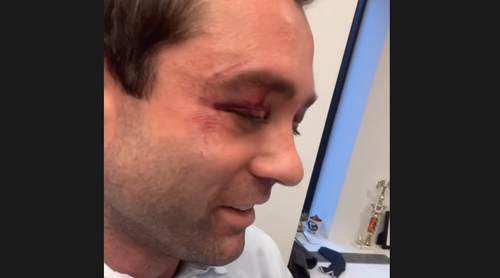 "Don't let your kids come and beat me up, people, in the middle of the night again, please," he joked.
In a separate post, Klotz cut a more serious tone as he provided further details regarding the incident.
"I feel like that last post seems like I wasn't being serious. Like this wasn't real. But, yeah, coming home last night from watching the [New York] Giants game at a bar, on the subway, this older gentleman was being hassled by this group of seven or eight teens," Klotz said.
'They Got Their Hits In'
"And I was like, 'Yo, guys, cut that out.' And they decided, 'Alright, he's not gonna get it, then you're going to get it!' And boy, did they give it to me. They had me on the ground—my ribs are all kinds of bruised up too. They got their hits in!"
Klotz explained that the man who was initially being hassled by the group of teenagers "got out of there fine" and police officers "grabbed a couple of these kids" following the attack.
The weatherman added that he has undergone X-rays and was doing OK, and his cuts and bruises were all going to heal.
Police told the New York Post that Klotz was on a No. 1 train at around 1:15 a.m. when he confronted the teens, who may have been smoking marijuana on the train at the time of the incident. The teenagers reportedly fled the train soon after the assault before they were picked up by police.
An NYPD spokesman told the publication that the teenagers were released without charges owing to their ages​ and the fact that the crime involved an apparent misdemeanor.
The Epoch Times has contacted NYPD and Fox News for comment.
New York Subway Crime on the Rise
New York saw a 30 percent rise in crimes on the subway last year, while general crimes rose 22 percent across the city in 2022, Bloomberg reported.
That is despite Mayor Eric Adams, a Democrat, announcing a new plan to combat violence and homelessness on public transit in February last year, which included the deployment of up to 30 joint response teams to "high-need locations" and parts of the transit system across the city.
Additionally, Adams and New York Gov. Kathy Hochul in October announced expanded initiatives aimed at keeping New York City subways safe and addressing transit crime, including boosting officer presence on subway platforms by approximately 1,200 additional overtime officer shifts each day.
"My number one priority as Governor is keeping New Yorkers safe in the streets, in their homes, in their schools, and on the subway, and we will do whatever it takes to make our subways safer for riders," Hochul said at the time. "Our expanded subway safety strategy of Cops, Cameras, and Care will crack down on subway crime, help those experiencing homelessness get the support they need to get out of the system, and alleviate concerns of riders to ensure New Yorkers feel safer throughout the subway system."
Read more here...
Loading...