---
France's Right-Wing Parties Surge In First Polling Since Riots
Authored by Thomas Brooke via Remix News,
Disillusioned French voters are moving further to the right after immigration-fueled riots across the country...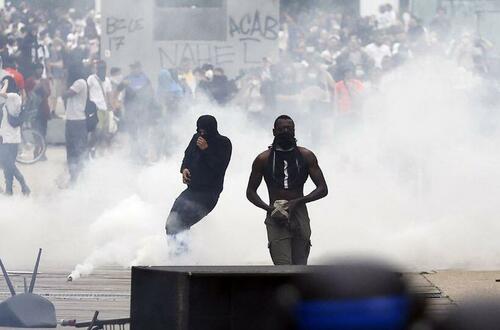 The French electorate is flocking to right-wing parties in the wake of the recent mass riots which enveloped the nation last week.
A new Ifop poll for Sud Radio showed right-wing parties enjoying a 6 percent swing in support from voters across the country when asked for their voting intentions ahead of next year's European parliamentary elections.
The National Rally, formerly led by ex-presidential candidate Marine Le Pen and now by Jordan Bardella, topped the poll with more than a quarter (26 percent) of the vote share, up one percentage point.
The liberal-conservative Republicans saw their popularity rise into double figures, up three percentage points to 11 percent, while Éric Zemmour's Reconquête party and Debout la France (DLF) gained one percentage point each to total 7 percent and 4 percent respectively.
🗳️🇨🇵🇪🇺 Intentions de vote #européennes2024 (post-émeutes, évolution par rapport à mai)

RN 26% +1
RE 20% +1
LR 11% +3
EELV 9% -1
PS 9% -1
LFI 8% -2
R 7% +1
DLF 4% +1
PCF 4% -1

Gauche 31% -5
Centre 20% +1
Droite 48% +6

IFOP/Sud Radio, juillet 2023

— Paul Cébille (@Ellibec) July 7, 2023
Left-wing parties have suffered a hit to their appeal, dropping five percentage points, with La France Insoumise (LFI) falling to 8 percent.
Emmanuel Macron's center party Renaissance edged forward one percentage point to attain 20 percent of the vote share despite widespread criticism, including from military leaders, at how the government responded to the thousands of vandals who caused upwards of €1 billion in damage; looted hundreds of businesses, torched vehicles, and even burned residential apartments to the ground.
Conservatives across Europe have seized upon the civil unrest witnessed in France to attack the liberal immigration policies adopted by Western governments since the turn of the century, with many right-wing administrations evidencing the unsavory scenes as justification for their concerns over the proposed EU Migration Pact.
"Shops looted, police cars set on fire, barricades in the streets — this is now happening in the center of Paris and many other French cities. We don't want such scenes on Polish streets," tweeted Polish Prime Minister Mateusz Morawiecki.
Italian Undersecretary for the Interior Nicola Molteni called the riots "a certification of the failure of uncontrolled migration and a warning for the rest of Europe," while Hungarian Foreign Minister Péter Szijjártó said the fantasy of social integration by progressive governments has "quickly turned to disillusionment".
"It is impossible to integrate large numbers of illegal immigrants from other cultures," Szijjártó told fellow lawmakers in the Budapest parliament on Tuesday.
Over 3,000 vandals, many of whom are left-wing sympathizers, and foreign nationals or of a migration background, have been arrested in the last week across France and a large police presence continues to be deployed across several major cities.
Loading...