---
"Free Jacob Chansley": Musk Backs 'QAnon Shaman' After New J6 Footage Emerges
Jacob Chansley, the January 6th protester cast by the media as a 'violent insurrectionist' and sentenced to nearly four years in federal prison, has been vindicated in the eyes of many, after new footage emerged last week which refutes the entire narrative surrounding the events of that day.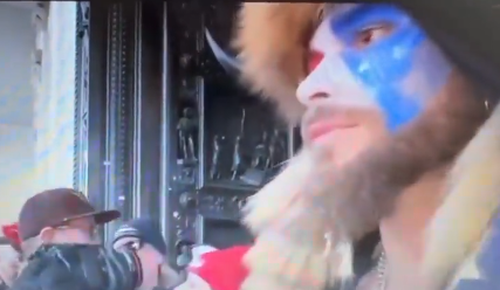 After reviewing footage withheld from the public by the January 6th Committee, Fox News host Tucker Carlson revealed that Chansley (given the moniker "QAnon Shaman"), was calmly escorted throughout the Capitol complex by Capitol Police, who even helped him find open doors.
"The tapes show the Capitol police never stopped Jacob Chansley," said Carlson. "They helped him. They acted as his tour guides," said Carlson.
Legacy media is no better at truth telling than the Soviet Pravda. Today we learn the truth: the Q-Anon Shaman was escorted around the capital and let into the Senate chambers by police. He even praised them for their hospitality. pic.twitter.com/AExUn5hzru

— Mythinformed (@MythinformedMKE) March 7, 2023
Now, footage has emerged of Chansley telling protesters to go home after former President Donald Trump tweeted to his followers.
JUST IN: Censored video re-emerges of Jacob Chansley reading Trump's tweet, telling protestors to GO HOME and remain peaceful..

WON'T SEE THIS ON CNN…
pic.twitter.com/L8bLXMGUAs

— Chuck Callesto (@ChuckCallesto) March 10, 2023
To which Elon Musk responded: "Free Jacob Chansley."
Free Jacob Chansley https://t.co/8BbeXF2Fye

— Elon Musk (@elonmusk) March 10, 2023
Chansley, the 'violent insurrectionist' has said that his one "very serious regret" was "believing that when we were waved in by police officers, that it was acceptable."
Very intelligent statement from Jacob Chansley. Watch.

pic.twitter.com/giMTzmTTX7

— Juanita Broaddrick (@atensnut) March 10, 2023
"Let him out," tweeted Elon Musk in response, defending Chansley.
This shaman/muffin-guardian is obviously not going to overthrow the state

— Elon Musk (@elonmusk) March 11, 2023
The tide has absolutely turned...
The bullshit J6 lies are collapsing.

— Catturd ™ (@catturd2) March 10, 2023
Yet of course...
The Capitol Police literally opened the Senate chamber door for him on camera!

But who are you going to believe, Instagram "fact-checkers" or your own lying eyes!?

— Elon Musk (@elonmusk) March 11, 2023
🧐

— Elon Musk (@elonmusk) March 11, 2023
Loading...