---
French Strikes A Cautionary Tale For US
Authored by Adeline Von Drehle via RealClearPolitics.com,
In the city's 14th municipal district, known here as an "arrondissement," people walk in the street as mounds of trash stake their claim on the sidewalk.
And walk they must. Sanitation workers aren't the only ones on strike. Transportation workers are also among the many refusing to work in retaliation against French President Emmanuel Macron's pension reform plan. The plan aims to raise the retirement age from 62 to 64.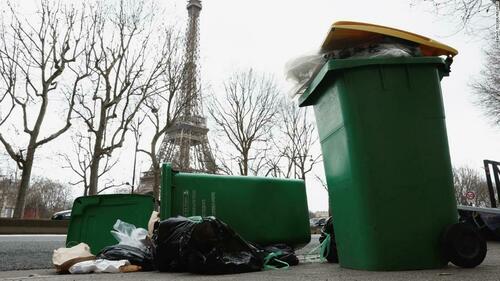 Thursday marked the ninth day of inter-union national strikes since the bill was introduced in January, days of protest in which virtually every French union member participates. Transportation, sanitation, and energy unions, however, have been on daily renewable strikes since March 7. Trains and planes arriving to, departing from, and crossing over France are experiencing major delays and cancelations. Teachers are walking off the job. The stench of weeks-old trash mingles with pain au chocolat.
Last Thursday, Macron ordered Prime Minister Élisabeth Borne to buck Parliament and ignore overwhelming public opinion and impose the pension reform plan via Article 49.3 of the French Constitution. The article permits passage of the bill while bypassing a vote at the National Assembly, though it is still subject to revision from the Constitutional Council before it becomes law. Macron lost his parliamentary majority last year, and the plan had support neither from the left nor the far right, but from Macron's centrist alliance alone.
Immediately following the employment of Article 49.3, some 7,000 demonstrators flooded Place de la Concorde, a grand square in central Paris famous for housing the guillotine during the French Revolution. More than 230 years later, it remains a site of unrest. Protestors charged riot police armed with stones and were met with tear gas. Over 300 activists were arrested.
The public outrage is two-fold. On one hand, the French despise the plan. Activists would rather see taxes increase on the wealthy. Yet Macron insists that because France's retired population is expected to increase from 16 to 21 million people by 2050, that won't be nearly enough, and his proposal is the surest way to make the French economy competitive.
"It's in the greater interest of the country," Macron said. "Between opinion polls and the national interest, I chose the national interest."
Pushing it by way of Article 49.3, though, has been seen by many as a slap in the face to the democratic process. Far-left lawmaker Mathilde Panot put it simply: "The government is already dead in the eyes of the French; it doesn't have any legitimacy anymore."
Lawmakers on the left and right each filed a no-confidence motion against Macron's government, though both were rejected by the National Assembly on Monday. One motion lost by just nine votes, increasing the pressure on Macron to either withdraw his reform or replace Borne to refresh his government's image. Mass union strikes and protests in France are not uncommon. But the battle lines in this fight may foreshadow a future fight in the United States.
In last month's State of the Union address, President Biden seemingly achieved rare unanimity on one key issue: Social Security and Medicare. For now, it appears both parties have agreed to leave the programs untouched – irrespective of what the actuary tables portend.
"Let's stand up for seniors. Stand up and show them we will not cut Social Security. We will not cut Medicare," Biden exhorted members of Congress, most of whom began clamoring to their feet.
The conversation about Social Security was sparked by Republicans' mere mention of the same issue that is roiling France: delaying the retirement age.
One of these plans, proposed by the Republican Study Budget Committee, suggests raising the retirement ages for both Social Security and Medicare from 66 or 67 (depending on date of birth) to 70. The increase in retirement age would be gradual. Based on the proposal, people born after 1977 would have a full retirement age of 70.
Democrats, for their part, would like to see money from additional payroll taxes on the wealthy shore up senior benefit programs. Currently, payroll taxes are capped at $160,200. Proposals on the left look to extend the solvency of Social Security and Medicare while reapplying payroll taxes on incomes as high as $400,000.
The retired population in the United States is expected to increase from 17% to 22% by 2050, a jump equal in proportion to that of France.
America's aging demographic suggests a potential clash that is generational as well as ideological.
"Gen Z and Millennials will rely on their Social Security benefits even more than current seniors do," says Max Richtman, president and CEO of the National Committee to Preserve Social Security and Medicare.
Citing "massive student debt, disappearing pensions, and the ever-widening wealth gap," he argues that Americans 40 and under will find it more difficult to accumulate wealth over the course of a career.
The vast majority of strikers and protestors in France are two-to-four decades from retirement age. And while the United States is perhaps too sprawling, diverse, and individualistic to experience crippling national strikes, Congress need only to look across the Atlantic Ocean to understand just how serious people are about their government benefits.
Loading...