---
Gavin Newsom's Wife Accused Of Profiting From 'Gender Justice' Films For Schoolchildren
Authored by Lear Zhou via The Epoch Times (emphasis ours),
Jennifer Siebel Newsom, the wife of California Governor Gavin Newsom, has been criticized for allegedly making a profit by screening her "gender justice" films to public school children.
The scrutiny comes from a nonpartisan government watchdog group called Open the Books, which claimed that "Siebel Newsom spent years laying the ideological groundwork and political infrastructure to support her policy ambitions," in a research report published on Feb. 13.
CEO and founder of Open the Books Adam Andrzejewski told NTD, a sister media of The Epoch Times, that his organization found out about Siebel Newsom's alleged scheme by "following the money."
Andrzejewski said they followed it "right into the governor's wife's … public charity, which is a film and curriculum nonprofit organization that licenses her films and curriculum to public schools across the country and in the state of California."
The First Lady of California's nonprofit organization "The Representation Project" was founded in 2011. It has produced four films, all advocating for gender or racial justice.
Siebel Newsom is the producer and director of the films. Andrzejewski said the secret is that "she hires her for-profit film production company to contract with her nonprofit film distribution company."
Siebel Newsom's for-profit company, Girls Club Entertainment, has received $1.6 million from The Representation Project since 2012, the report stated.
She also earned $1.5 million in salary from the nonprofit company from 2013 to 2021, which means she has personally received $3 million in profit, according to Andrzejewski.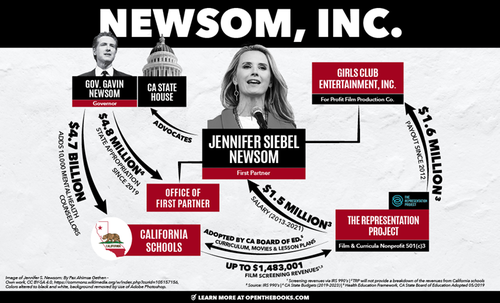 In the health education framework for California public schools issued in 2021 by the State Board of Education, Siebel Newsom's nonprofit films and curriculum are recommended.
In the summer of 2022, Gavin Newsom convinced the state legislature to pass a budget providing $4.7 billion for K–12 mental health services, which, among other things, funded 10,000 new school counselors.
"The Mask You Live In," one of the films produced and directed by Siebel Newsom, would warn "teachers in the classroom that when they show the film and walk students through the curriculum, they should have therapists on hand," Andrzejewski said, and this became one of the main argument points for Gavin Newsom to convince the state legislature.
The film features porn website addresses, and the pornographic images displayed are tagged with descriptions such as "domination," "kinky couples," etc.
The movie claims it will show "how we, as a society, can raise a healthier generation of boys and young men" and will help "shape the national conversation around healthy masculinity."
However, Andrzejewski said, "This incredibly gives students a roadmap to see this stuff for future exploration outside of the classroom."
"This is exactly what parents across the entire country should be scared of that their children are seeing in their public school classrooms," he said.
Besides the sexually explicit imagery shown in two of the four films, lessons that include Marxist ideology and critical race theory are being taught in classrooms, Andrzejewski said.
"This is a classroom very physically divided between those that are, quote unquote, oppressed and those that are, quote unquote, privileged," said Andrzejewski.
He said Gavin Newsom stars in two of the four films Siebel Newsom made.
"In the curriculum, students are asked to vote for politicians that espouse the same views as her husband, Gavin Newsom," Andrzejewski said. "We think it's an on-its-face conflict of interest."
NTD has reached out to The Representation Project for comment but has not received a response as of this writing.
NTD reporter Jackie Rios contributed to this report.
Loading...