---
Tyre Nichols Protests Break Out Across US
Update (0845ET):
Protests flared up Friday night across the US following the release of the Tyre Nichols bodycam footage. Some demonstrations were peaceful, while others were not. Antifa militants were spotted at some of the marches.
Last night, protesters brought Times Square to a halt. 
WARNING LANGUAGE: Times Square at complete standstill. Protest for #TyreNichols pic.twitter.com/4ahwbAdFoR

— CeFaan Kim (@CeFaanKim) January 28, 2023
At least one person thought it was a good idea to break the windshield of an NYPD Traffic vehicle. 
Breaking: A person attacks an NYPD car & gets arrested at the Times Square direct action. They gathered to protest the death of #TyreNichols in Memphis. He was allegedly killed by 5 black cops who were fired & arrested. Video by @freedomntv: pic.twitter.com/2Diw6hz4O9

— Andy Ngô 🏳️‍🌈 (@MrAndyNgo) January 28, 2023
Then unrest broke out between protesters and police. 
Shit real in Times Square tonight #nyc #NewYorkCity #memphis #protest #news #PoliceBrutality #PoliceReform #MEMPHIS #MemphisPolice #TyreNichols #TyreNicholsVideo #TyreeNichols #JusticeForTyre #JusticeforTyreNichols #tyre pic.twitter.com/EBJNHjdGJt

— That Guy Shane (@ProfanityNewz) January 28, 2023
One motorist in Seattle was furious about protesters blocking the street. He said:
"Get out the street. Y'all can go protest that shit on the sidewalk. I don't care. It's stupid, get out the street. People got places to go. That don't solve nothing."
Another fed up motorist in Seattle:

"Get out the street. Y'all can go protest that shit on the sidewalk. I don't care. It's stupid, get out the street. People got places to go. That don't solve nothing."

I agree, get off the streets.#TyreNichols

pic.twitter.com/LYQP8vR0DF

— The Aftermath™️ (@aftermathvids) January 28, 2023
Some claim Antifa militants were marching in downtown Seattle. 
#NOW: Large group of black bloc Antifa militants marching downtown Seattle in protest of the fatal police beating of Tyre Nichols. pic.twitter.com/vR0gNSOiBr

— Katie Daviscourt🇺🇸 (@KatieDaviscourt) January 28, 2023
Chaotic scenes in Los Angeles. 
As small crowds of people gather in protest of the police custody death of Tyre Nichols, someone tossed a lit firework at one of the LAPD cruisers, causing the vehicle to catch the firework smoke. MORE: https://t.co/iXJIh7hnpT pic.twitter.com/35rl4pH1yx

— FOX 11 Los Angeles (@FOXLA) January 28, 2023
HAPPENING NOW:#Protesters and #Antifa vermin #attack #Police cars in #LosAngeles #LA for #TyreNichols #TyreNicholsVideo

LIVE: https://t.co/wiwOyLH1wW#Live #news #USA #protest #AntifaTerrorist #BLM #nocopcity #AbolishThePolice pic.twitter.com/hbIOQN4kqq

— HumanDilemma (@HumanDilemma_) January 28, 2023
Large crowds shut down the Interstate 55 bridge connecting Tennessee and Arkansas.
.@DrewHLive captured the Memphis #BLM-style protest in which hundreds shut down the I-55 highway and a bridge. The crowd gathered to protest over the death of #TyreNichols, a man allegedly beaten to death by five black ex-cops who have been arrested. pic.twitter.com/1mBhpvcAaR

— Andy Ngô 🏳️‍🌈 (@MrAndyNgo) January 28, 2023
DEVELOPING: Protesters blocking traffic along Interstate 55 in Memphis, Tennessee#Memphis l #TN
Demonstrators have gathered to protest the police killing of Tyre Nichols following the release of bodycam footage. As a result, numerous drivers are stranded in their vehicles. pic.twitter.com/KltCXxsEIv

— Intel Point Alert (@IntelPointAlert) January 28, 2023
MEMPHIS: Protesters take over the I-55 bring to protest the death of #TyreNichols. pic.twitter.com/jxWWSInyUC

— Kalen D'Almeida (@fromkalen) January 28, 2023
Ahead of the demonstrations, President Bided called for 'peaceful protests.' 
President Biden calls for peaceful protests shortly before the release of the Tyre Nichols police footage. pic.twitter.com/sMmYMvLnSO

— News Bro (@Newzbro) January 28, 2023
Daily Mail reported protests were seen across the US.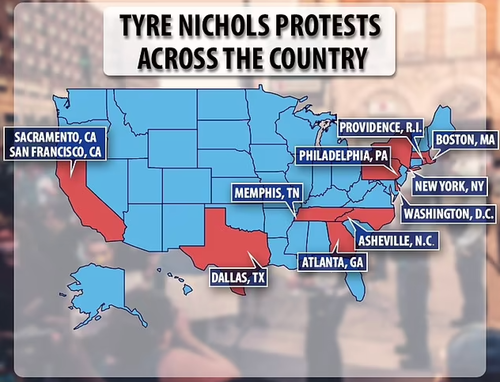 The US could be gearing up for a weekend of chaos. 
*   *   * 
Authored by Katabella Roberts via The Epoch Times,
Georgia Gov. Brian Kemp declared a state of emergency on Jan. 26, allowing up to 1,000 Georgia National Guard troops to be bought in to help deal with violent protests that have broken out in recent weeks, with further demonstrations anticipated over the weekend.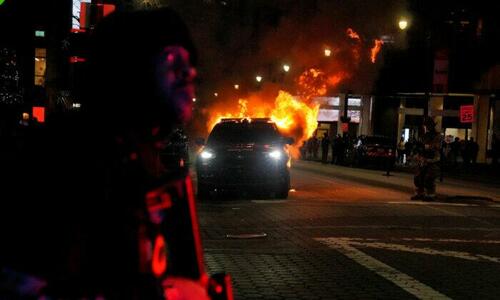 The declaration is effective immediately and will expire on Feb. 9, unless extended by the governor.
Specifically, the state of emergency is being activated owing to "unlawful assemblage, violence, overt threats of violence, disruption of the peace and tranquility of this state, and danger existing to persons and property," according to the declaration, under which all resources of the state of Georgia will be made available to assist in the ongoing response to the state of emergency.
Kemp, a Republican, declared the emergency following a weekend of protests in downtown Atlanta that quickly turned violent.
Masked rioters lit fireworks in front of the Atlanta Police Foundation, shattering large glass windows and vandalizing walls with anti-police graffiti.
At least three businesses were damaged when bricks and rocks were thrown at properties, according to local reports. In some instances, protesters used hammers to smash windows. A number of police vehicles were also attacked during the protests and at least one was set on fire, according to the reports.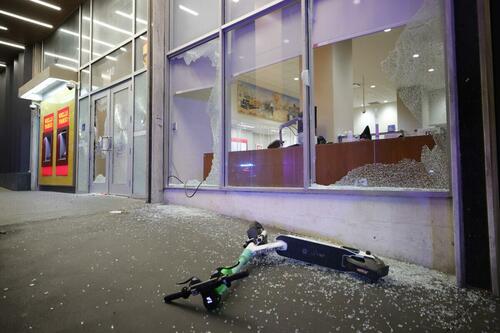 Broken windows at a Wells Fargo branch are seen following a violent protest, in Atlanta, on Jan. 21, 2023. (Alex Slitz/AP Photo)
Protests Turn Violent
"Masked activists threw rocks, launched fireworks, and burned a police vehicle in front of the Atlanta Police Foundation office building," Kemp's declaration read. "Georgians respect peaceful protests, but do not tolerate acts of violence against persons or property."
Six people were subsequently arrested following the weekend demonstrations and given multiple charges, including domestic terrorism.
At a press conference on Jan. 21, Atlanta Mayor Andre Dickens told reporters that some of the individuals had explosives on them.
The protests in Atlanta came in response to the death of Manuel Teran, 26, who was killed on Jan. 18 as authorities attempted to clear a group of demonstrators from an area that is set to be the future Atlanta Public Safety Training Center. Activists have been protesting at the site for months and have dubbed it "Cop City."
Teran was reportedly helping to lead the protests when he allegedly shot and wounded a Georgia state trooper and was killed when police returned fire, according to a statement from the Georgia Bureau of Investigations.
"Officers gave verbal commands to the man who did not comply and shot a Georgia State Patrol Trooper. Other law enforcement officers returned fire, hitting the man. Law enforcement evacuated the Trooper to a safe area. The man died on scene," the statement reads.
However, friends of Teran claim that they were peacefully protesting in the area.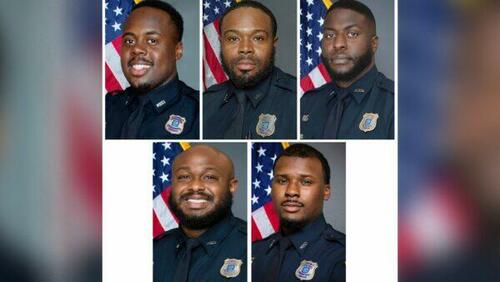 This combo of images provided by the Memphis Police Department shows (top L–R) officers Tadarrius Bean, Demetrius Haley, Emmitt Martin III, (bottom L–R) Desmond Mills Jr., and Justin Smith. (Memphis Police Department via AP)
Police Charged in Murder of Tyre Nichols
Kemp's emergency declaration comes as more protests are widely expected this weekend after the five police officers accused of killing a black man during a traffic stop on Jan. 10 were charged with second-degree murder.
Memphis Police Department officers Tadarrius Bean, Demetrius Haley, Emmitt Martin III, Desmond Mills Jr., and Justin Smith, who are all black and who have since been fired, were accused of beating 29-year-old Tyre Nichols to death during a Jan. 7 traffic stop.
Nichols died of his injuries three days later.
On Thursday, the Shelby County district attorney announced he would release footage of the arrest on Friday after 7 p.m. ET. A lawyer for Nichols's family, Antonio Romanucci, described the footage as an "unadulterated, unabashed, non-stop beating of this young boy for three minutes," adding, "he was a human piñata for those police officers."
Atlanta Police released a statement to multiple media outlets on Thursday afternoon stating that they are "closely monitoring the events in Memphis and are prepared to support peaceful protests in our city."
"We understand and share in the outrage surrounding the death of Tyre Nichols," the statement continued. "Police officers are expected to conduct themselves in a compassionate, competent, and constitutional manner and these officers failed Tyre, their communities, and their profession. We ask that demonstrations be safe and peaceful."
Loading...