---
Georgia Passes Law To Crack Down On 'Far-Left' Prosecutors Who Are Soft On Crime
As of Friday, Georgia will no longer cater to "far-left prosecutors" who are soft on crime, after Republican Governor Brian Kemp signed a bill into law establishing the Prosecuting Attorneys Qualifications Commission (PACQ), part of a broader GOP thrust to get tougher on crime and make communities safer, the Epoch Times reports.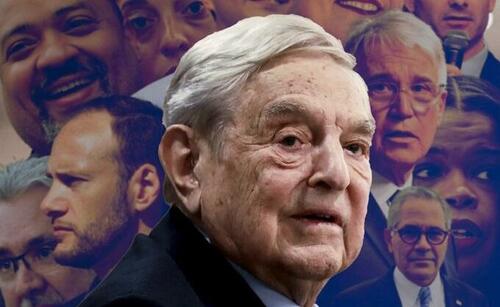 "My No. 1 priority is public safety across our state," said Kemp, whose office described the commission as a "valuable oversight mechanism" that ensures the duties of state officials are fulfilled.
The Commission will be comprised of eight members, six of whom will be current or former prosecutors, and two other lawyers, who will oversee district attorneys and solicitors general.
"The creation of the PACQ will help hold prosecutors driven by out-of-touch politics than commitment to their responsibilities accountable and make our communities safer," said Kemp.
The new commission has the authority to investigate alleged misconduct by district attorneys and solicitors-general and discipline or remove them entirely if they meet the conditions for removal, which include "willful and persistent failure to carry out statutory duties" and conduct that is "prejudicial to the administration of justice."

Republicans across the country have pushed measures to rein in progressive prosecutors who they see as being soft on criminals by declining to prosecute certain crimes. -Epoch Times
"As hardworking law enforcement officers routinely put their lives on the line to investigate, confront, and arrest criminal offenders, I won't stand idly by as they're met with resistance from rogue or incompetent prosecutors who refuse to uphold the law,"" said Kemp.
State Democrats unsurprisingly opposed the law, arguing that the Republican legislative majority was looking for ways to impose its will on Democratic voters.
"I strongly oppose an excessive and unnecessary commission as district attorneys are already held accountable under existing laws and through the current democratic process of holding election," said Deborah Gonzalez, Democratic district attorney for Athens-Clarke and Oconee counties, who has declined to prosecute drug crimes involving marijuana.
Republicans go after "rogue" prosecutors
Georgia's new commission comes amid a fight by Republicans against "rogue" district attorneys, often funded directly or indirectly by billionaire agent of chaos, George Soros.
"The inability to ensure public safety and protect communities is occurring at every level of state government," Reps. Steve Scalise (R-La.) and Scott Fitzgerald (R-Wis.) wrote in an op-ed. "By cracking down on rogue prosecutors who favor criminals over victims, we can ensure that no one else is put in harm's way as a result of Democrats' negligence."
According to former President Donald Trump, "Soros prosecutors appear to be engaging in selective enforcement based on illegal racial discrimination" in major Democratic strongholds such as Chicago, San Francisco, and Los Angeles.
Trump has vowed to target Soros prosecutors if he's elected president again in 2024, and has vowed to "overhaul" the Department of Justice.
"They are Marxist in many cases," said Trump, who pledged to appoint around 100 US attorneys who are the "polar opposite" of the "Soros district attorneys and others being appointed around the United States."
On Thursday, a progressive prosecutor who was notoriously funded by far-left billionaire George Soros announced her resignation, after months of bipartisan pressure to do so.
Fox News reports that Kim Gardner, the Circuit Attorney for St. Louis, announced that her resignation will be effective June 1st. Gardner was one of the first prosecutors in the country to be bankrolled by Soros, who has since expanded his efforts to other major cities across the country. She was first elected in 2016 and re-elected in 2020, largely due to Soros' financial backing. Prior to her resignation announcement, she had declared her intention to run for a third term in 2024.
Loading...