---
Giuliani Responds To Borat Photo
Update 1755ET: Following The Guardian's full-court-press effort to distract from the disturbing details being exposed about Hunter Biden (and his father), the rest of the activist media jumped on the Giuliani-hand-down-his-pants/Borat story.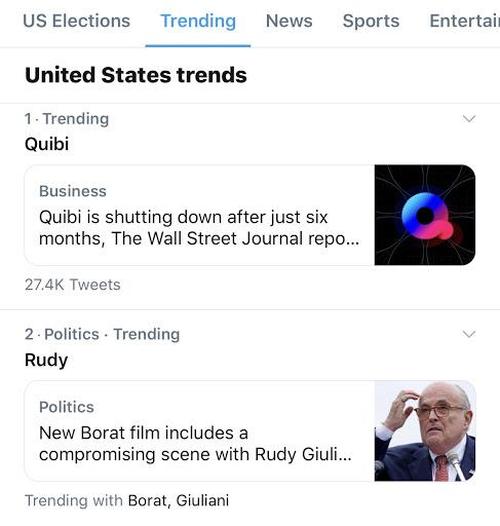 As the embarrassing story took on a mind of its own among social media and mainstream media types, the former New York Mayor has taken to Twitter to respond and clarify what exactly happened...
The Borat video is a complete fabrication. I was tucking in my shirt after taking off the recording equipment.

At no time before, during, or after the interview was I ever inappropriate. If Sacha Baron Cohen implies otherwise he is a stone-cold liar. 

In fact, the NY Post today reports "it looks to me like an exaggeration through editing."

As soon as I realized it was a set up I called the police, which has been noted in THR article on July 8th. 

This is an effort to blunt my relentless exposure of the criminality and depravity of Joe Biden and his entire family.

Deadline Hollywood reports CAA had a distribution screening in September where there was no mention of the scene holding any importance.

We are preparing much bigger dumps off of the hard drive from hell, of which Joe Biden will be unable to defend or hide from. I have the receipts. 
If this is all the Deep State has to try and distract from HunterGate, they have a problem (and so far have not denied any of the details that have been exposed).
And on the bright side, no Russians were blamed and at least he wasn't masturbating on a work Zoom call.
*  *  *
As TheMindUnleashed's John Vibes detailed earlier, Rudy Giuliani is among the high profile figures who were pranked for Sasha Baron Cohen's new Borat sequel, and so far his encounter is the most embarrassing. Cohen and Maria Bakalova, the actress who portrays Borat's daughter in the film, brought Giuliani into their prank by posing as conservative TV journalists.
They conducted an interview with Giuliani where they were extremely agreeable and after the interview, Bakalova went back to a nearby hotel room with him for a drink. The room was rigged with hidden cameras, which recorded Giuliani apparently untucking his shirt and reaching into his pants.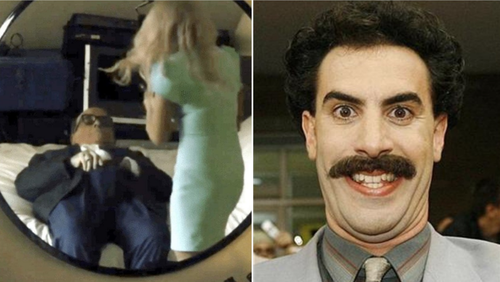 Once he began to reach into his pants, Borat runs into the room and shouts, "She's 15. She's too old for you."
Just after the incident, Giuliani called New York City police to report the incident, claiming that he was the victim of a scam or a set up.
Giuliani described the encounter to the New York Post, saying that:
"This guy comes running in, wearing a crazy, what I would say was a pink transgender outfit. It was a pink bikini, with lace, underneath a translucent mesh top, it looked absurd. He had the beard, bare legs, and wasn't what I would call distractingly attractive. This person comes in yelling and screaming, and I thought this must be a scam or a shakedown, so I reported it to the police. He then ran away."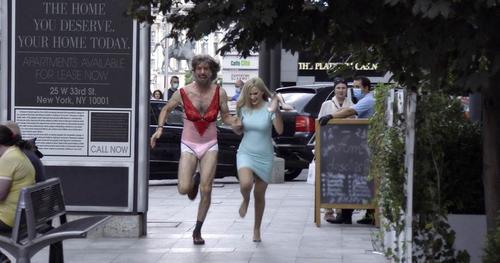 Giuliani said that he later realized that it was Sacha Baron Cohen and was relieved that he didn't fall for their prank, although he seems to be the only one that thinks that.
"I thought about all the people he previously fooled and I felt good about myself because he didn't get me," he said.
Of course, the encounter made Giuliani look very creepy, but no laws were technically broken because Bakalova is 24-years-old and initiated the encounter. They were also interrupted before Giuliani got the chance to do anything illegal.
The plot of the new film revolves around Borat's quest to give his daughter to a powerful US politician as a gift. As with the last film, Borat encounters a variety of different Americans in his travels, and their interactions are intended to illustrate a sort of culture shock that he is experiencing, while also satirizing the cultures of both America and Kazakstan.
However, due to the overwhelming success of the first film, Borat's face was very easy to recognize for most of the people who he attempted to prank, so he needed to get creative and don disguises so his targets would feel more comfortable and let their guard down.
In one scene, he wears a very realistic Donald Trump disguise and crashes the American Conservative Union's Conservative Political Action Conference, while Mike Pence is giving a speech.
In the scene, which is shown in the trailer, Cohen is seen running through the conservative convention wearing the Trump mask, and carrying an unconscious woman over his shoulder. He bursts into the room where Pence is speaking and shouts "Micheal Paenis I brought that girl or you." Mike Pence looked directly into the crowd, glaring at Cohen.
The new film will be available to stream for Amazon Prime subscribers on Oct. 23.