---
GM Joins Ford In Switching To Tesla Charging Standard For Next Generation EVs
General Motors announced on Thursday that it will be switching to Tesla's charging network and charging technologies, CNBC reports. The decision follows a similar move by Ford, and will allow GM vehicles to access 12,000 of Tesla's chargers using a special adapter and the Detroit automaker's EV charging app, beginning in 2024.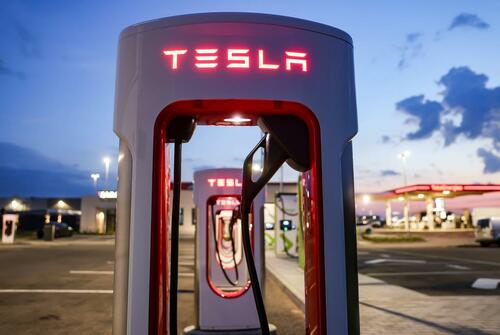 GM will join Ford, which last week announced the switching to a type of charging port known as NACS, vs. the current industry-standard CCS.
The partnership was heralded by CNBC as a 'major win' for Tesla and its charging technology - and it's expected to add pressure on other automakers (and the US government) to adopt Tesla's technology.
The deal is expected to be announced by GM CEO Mary Barra and Tesla CEO Elon Musk during a live audio discussion Thursday on Twitter Spaces. GM is ramping up production of its fully electric vehicles in pursuit of Tesla-level sales volumes in the segment.

It also marks a stark reversal in strategy for GM. Weeks ago, when Ford announced its own partnership with Tesla, GM was working with engineering organization SAE International to develop and refine an open connector standard for CCS. -CNBC
To listen to the Twitter Spaces conversation between Musk and Barra, click the image below:

"This collaboration is a key part of our strategy and an important next step in quickly expanding access to fast chargers for our customers," Barra said in a statement. "Not only will it help make the transition to electric vehicles more seamless for our customers, but it could help move the industry toward a single North American charging standard."
The deal between GM and Tesla will likely benefit both companies - more than doubling access to fast charging stations of which Tesla says there are roughly 4,947 worldwide. The company has not disclosed how many are located in the United States.
Loading...