---
GoFundMe For Cop Who Mocked LeBron James Hits $70K After Friend Alleges Suspension Without Pay
A GoFundMe page created for a Bellevue, Idaho cop who mocked LeBron James has raised over $73,000, after a friend claimed officer Nate Silvester was suspended without pay.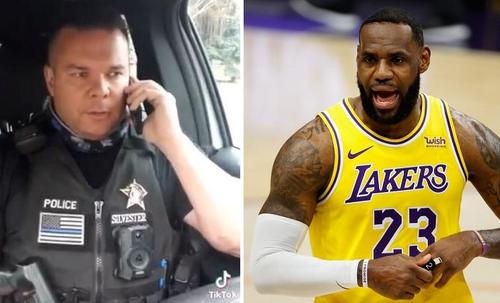 On Wednesday, the Bellevue Marshal's Office posted that the matter regarding Deputy Nate Silvester was being handled "internally" and that "The statements made do NOT represent the Bellevue Marshal's Office." There was no mention of a suspension in the statement.
Silvester posted a TikTok video last week which mocked James after the basketball star tweeted, then deleted, a comment about the officer who fatally shot Ma'Kahia Bryant in Ohio.
"So you don't care if a Black person kills another Black person, But you do care if a white cop kills a Black person, even if he's doing it to save the life of another Black person?" said Silvester in the TikTok. "I mean it doesn't make a whole lot of sense, but then again you are really good at basketball so I guess I'll take your word for it."
According to a GoFundMe user named "Gannon," Silvester was suspended without pay.
"The recent viral TikTok video of a cop calling out Lebron James has cost the cop, my best friend in the world, Officer Nate Silvester a suspension without pay. He's still got his job for now, but apparently the town where he polices didn't find his TikTok as amazingly comical, and accurate as the 4.5 million viewers did, including some major news networks," reads the GoFundMe.
As of this writing, more than 2,200 people have contributed to the fund, with the largest donation being $5,000 from an anonymous individual.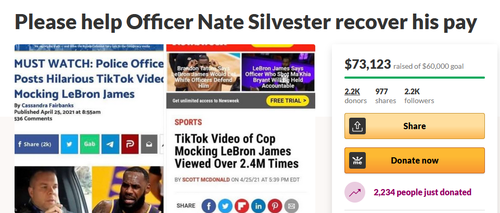 According to an update on the fundraising page, Silvester is going to donate a portion of to the First Responders Children's Foundation, "a charity for the families of fallen officers and first responders."