---
GOP Raises 400% More Than Democrats For Georgia Runoff
Despite calls by Trump supporters for Republicans to withhold votes for Georgia GOP candidates in January's runoff election, GOP donors have been showing up big for the candidates, despite their refusal to back the president's claims of widespread election fraud.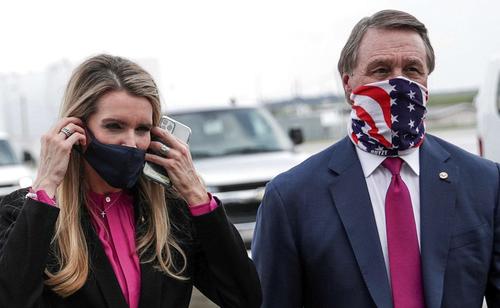 According to Bloomberg, GOP donors contributed $95 million to their party's Senate super-pac and party election committee between election day and Nov. 23  - over four times the $18 million Democrats contributed to similar groups over the same period. Granted, that time frame excludes much of the fervor over election fraud, or the fact that Sens. Kelly Loeffler and David Perdue are essentially never-Trump Republicans.
Their Democratic opponents, Jon Ossoff and Raphael Warnock have a much higher volume of donations - albeit in far smaller amounts contributed mostly online.
Thanks to the massive contributions, the Georgia GOP has been able to ramp up expensive advertising - with the GOP candidates having booked $161.6 million in airtime vs. $118.3 million for Democrats, which came primarily from out of state.
Both parties are laser focused on the Georgia runoffs because the outcome will determine who controls the upper chamber. If Democrats manage to unseat both incumbents, the Senate would be split 50-50. Democrats will be able to set the agenda because Vice President-elect Kamala Harris would be able to break any ties.

And big money Republicans are stepping up for the fight. The Senate Leadership Fund, a super-PAC that has ties to Majority Leader Mitch  McConnell, raised $104.2 million between Oct. 15 and Nov. 23, with $71.1 million of that amount donated after the Nov. 3 general election. -Bloomberg
GOP donors include Blackstone Groujp co-founder Stephen Schwarzman, who gave $15 million on Nov. 12, as well as Citadel co-founder Kenneth Griffin, who put $10 million towards the race the same day. Adding to the list of megadonors who contributed after election day are investor Timothy Mellon, Steve Wynn - who each gave $5 million. In the $1 million club are Home Depot co-founder Bernard Marcus, TD Ameritrade founder Joe Ricketts, and real estate developer Geoffrey Palmer.
Meanwhile, the National GOP Senatorial Committee has raised $23.9 million since Nov. 3, which include contributions from Senate Republicans' own campaigns. A super-PAC with ties to Senate Majority Leader Mitch McConnell raised $104.2 million between Oct. 15 and Nov. 12 - of which $71.1 million was contributed after the election.
WinRed's data suggests that online donations to the two Republicans lag behind the Democrats. Using the platform, Republican donors contributed $28.6 million to Perdue and $27 million to Loeffler. Loeffler had largely self-financed her campaign before Oct. 15, loaning it $23 million while raising just $5 million.

The national interest in the races is reflected in the grassroots giving. Of nearly $114 million raised by the two Democrats through ActBlue, 96% comes from donors outside of Georgia. For the Republican candidates, 92% of their $56 million through WinRed is from out-of-state contributions. -Bloomberg
On the Democratic side, their Senate Majority PAC has raised $89.9 million between Oct. 15 and Nov. 12, however just $10.2 million of that came after Election Day. Big donors who contributed before the election include Renaissance Technologies founder James Simons, Eric Mindich of Eton Park Capital Management, and Bain Capital co-chairman Joshua Bekenstein - while Netflix CEO Reed Hastings. Carlyle Group co-founder co-founder William Conway donated $250,000.