An over five-year trial watched closely by the public has come to a close in Greece and issued an unprecedented verdict, finding an entire political party — the far-right and Nazi-sympathetic Golden Dawn — to be a criminal organization, effectively disbanding it. 
Golden Dawn and its leadership stood accused of organizing and encouraging attacks on migrant fishermen and immigrants, as well as left-wing activists, including Communist trade unionists, and was at its height of power when it took 18 parliament seats in 2012 when Greece faced its most severe recent financial crisis.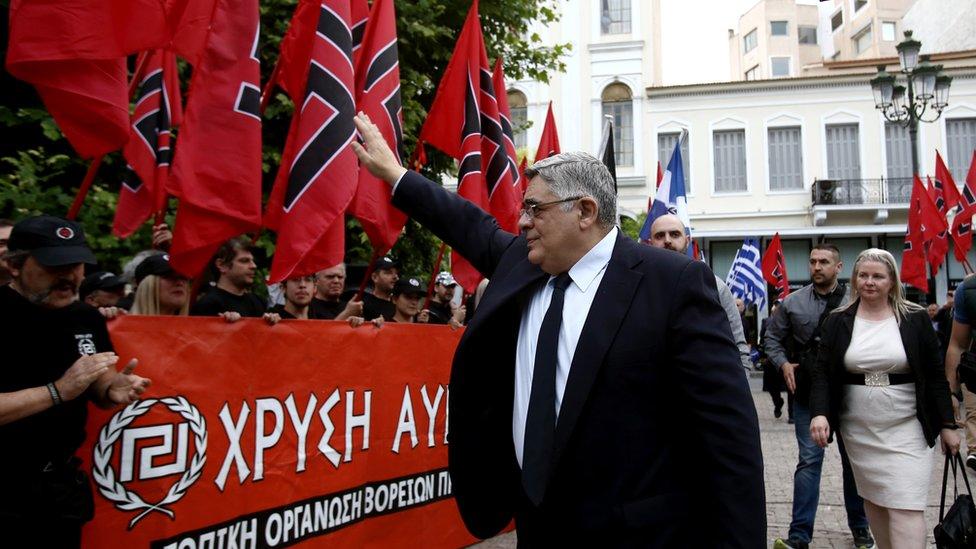 The trial included 68 defendants, out of which leader Nikos Michaloliakos and six of his close colleagues were convicted of running a criminal enterprise, with one party loyalist, Giorgos Roupakias, found guilty of the 2013 murder of Greek activist and rapper Pavlos Fyssas. Roupakias has been given life in prison.
An additional 15 others were convicted of conspiracy related to the brutal stabbing on the streets of a suburb of Piraeus. Fine defendants were also found guilty for an attempted murder on a group of Egyptian fishermen.
Massive protests against Golden Dawn and against fascism engulfed the streets of Athens Wednesday as the verdict was watched by the nation. Protests were later broken up by police.
In the emotional aftermath of the verdict, Fyssas' mother cried out, "Pavlos you did it!" after Golden Dawn was officially outlawed by the court.
Η ώρα που η αστυνομία αποφασίζει να διαλύσει την πορεία. Χωρίς λόγο. pic.twitter.com/9tkY0T9Cfe

— Jaquou Utopie (@Jaquoutopie) October 7, 2020
The major criminal inquiry into the party itself, which was founded in the 1980s, began largely as a result of the 2013 murder, given the confessed killer Giorgos Roupakias not only worked at party headquarters as low-level staff, but placed a phone call to its leadership just after the stabbing of Pavlos Fyssas.
Euronews describes further of the ruling:
Greek prosecutors said that 68 leaders, MPs and activists ordered or at the very least were aware of the murder of Fyssas. They are also suspected of other violent attacks, racketeering, attempted murder and illegal possession of weapons.

This in effect, prosecutors said, means that the neo-Nazi populist political party is actually an organized crime outfit.

The far-right party had members within parliament from 2012 until July 2019 when Golden Dawn failed to receive 3% of the vote as required in the general election.
Τα κατάφερε!#ΔενΕιναιΑθωοι

pic.twitter.com/NpuezyrTZo

— Nina Reizi (@ninarei) October 7, 2020
Golden Dawn has long denied being a Neo-Nazi organization, however, witnesses said its members wear Nazi symbols and are immersed in Nazi propaganda while undergoing training with guns and knives, and are vocally supportive of Hitler.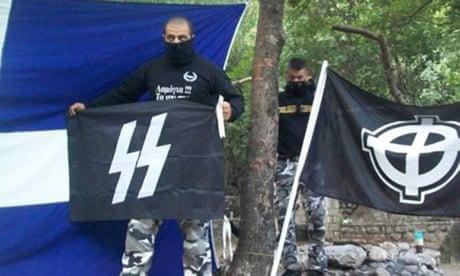 Greek President Katerina Sakellaropoulou hailed the verdict as "an important day for the country's democracy" in statements.
Meanwhile, Golden Dawn's leaders have long claimed the trial was really an act of political persecution in order to shut down their voice in Greek society, with small groups of protesters against the legal proceedings over the years chanting "Blood, Honor, Golden Dawn!" outside the court house.