---
Suspect Who Killed Son Of Epstein-Linked Judge Identified
Update (1540ET): Citing federal law enforcement sources, the NY Post has just published more details about the deceased suspect in an attack that left the son of a judge overseeing a lawsuit against Deutsche Bank involving the bank's failure to hold Epstein accountable.
Though some reports claim the suspect actually intended to target Judge Salas's husband, it appears initial reports that the suspect was a lawyer who had once argued a case before the judge have been confirmed.
The suspect, whose body was found in the Catskills, has been identified as lawyer and men's rights activist Roy Den Hollander. It's believed that Hollander had a case pending before Salas where he was challenging the "men's only" draft. Hollander also once sued Chuck Todd of NBC's Meet the Press, the New York Times' commentator David Brooks, and Major Garrett of CBS. He accused them of violating the Racketeer Influenced and Corrupt Organizations Act by allegedly committing "wire fraud" for publishing "fake news" reports about President Trump.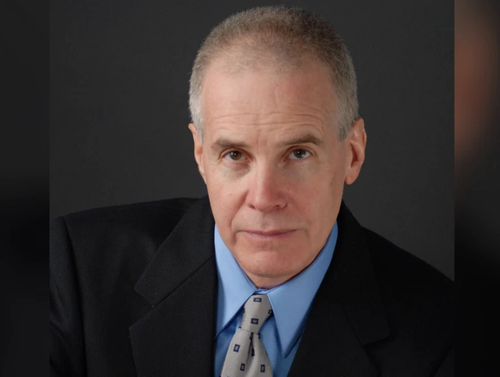 Roy Hollander
Authorities told a local ABC affiliate that they're still trying to determine if the judge, or her husband, a well-known criminal defense lawyer, was the intended target.
* * *
Update (1324ET): Last night's killing in North Brunswick has dominated the news cycle on Monday as numerous 'experts' have stepped forward to denounce the connection between the shooting and a civil suit against Deutsche Bank that Judge Salas had recently been charged with overseeing.
Now, authorities are telling media that the suspect in the shooting has been found dead via suicide in Liberty, NY.
That's an unexpectedly morbid turn. But there's more: The suspect was a white man (remember, lower-case "w" for white) who wore a face covering and a FedEx uniform, law enforcement sources told ABC News, and he used an ordinary car to make a getaway.
But here's the real twist. Though his name hasn't been released, authorities said the suspect was an attorney who once argued a case before Judge Salas, back in 2015. Police told reporters that they suspect the suspect killed himself with a self-inflicted gunshot.
Here's more from ABC:
The suspect was later found dead of an apparently self-inflicted gunshot wound near Liberty, New York, multiple law enforcement sources told ABC News. A municipal employee discovered the body in a car.

The deceased suspect was an attorney who had a case before Judge Salas in 2015, sources said. A FedEx package addressed to Judge Salas was discovered in the car, sources said.

"As a judge, she had threats from time to time, but everyone is saying that recently there had not been any," said Mayor Womack, who is personal friends with the judge and her husband.

FedEx Spokesman Jim Masilak said in a statement, "We are aware of the media reports and are fully cooperating with investigating authorities."
It sounds plausible enough. However, in a world where everything with even the most remote connection to Epstein inspires intrigue and suspicion, we wouldn't be surprised if the authorities' eventual report produces more questions than answers.
#The Man Who Tried To Kill The Epstein Judge Did Not Kill Himself

too soon?

— zerohedge (@zerohedge) July 20, 2020
In addition to the FBI, the New Jersey State Police, the North Brunswick Police and the Middlesex County Prosecutor's office are also involved in the investigation, which isn't over yet, apparently. The US Marshals have been called upon to provide a detail for the judge.
* * *
When we first spotted headlines about a lone gunman's lethal assault on the home of a federal judge in New Jersey, we feared this was just another example of how criminals have been emboldened by the nationwide backlash against law enforcement embodied by the 'defund the police' movement.
But that was before we learned that the judge targeted in the attack - Newark-based US federal judge Esther Salas - had been assigned to a Deutsche Bank/Epstein lawsuit just four days before the attack.
The shooting occurred Sunday night at around 5pmET. Salas 20-year-old son Daniel Anderl, a student, opened the door at the family home in North Brunswick after hearing the doorbell ring. The man outside appeared to be a FedEx employee, according to media reports.
Almost immediately, the gunman started blasting, shooting and killing Anderl, and badly wounding his father, Mark Anderl, 63, a prominent defense attorney in the area. Salas has reportedly received threats from time to time, but local press reported that Salas hadn't received any threats recently.
Seated in Newark, Salas' most high-profile cases recently involved the tax evasion prosecution of Joe Giudice, the husband of RHNJ star Theresa Giudice. She also spared a murderous gang leader from the death penalty over what she ruled was an intellectual disability that made him ineligible for capital punishment.
But Salas is now presided over an ongoing lawsuit brought by Deutsche Bank investors who claim the company made false and misleading statements about its AML policies while failing to monitor "high-risk" customers like sex offender Jeffrey Epstein. Since the arrest of Ghislaine Maxwell, public interest in all things Epstein has been revived.
The FBI revealed last night that it will be spearheading the investigation into the slaying.
Investigators said they're looking into any connections to the Epstein/DB lawsuit, while also investigating any connections to her husband's work as a criminal defense attorney.
The FBI's announcement was met with a sarcastic response by many on twitter.
If there is one organization in the country that can stand up to the Epstein-linked mob and keep democratic society on track, this is that group. https://t.co/xCb5SYUqP7

— Mark Melin (@MarkMelin) July 20, 2020
The FBI says it's looking for one suspect. The Marshals Service is also carrying out its own investigation, since the agency takes its responsibility to protect federal officials "very seriously".
So far, authorities have refused to confirm that the Epstein connection might have been a motive. A friend of the judge's said Salas hadn't received any threats recently.
Salas, 51, was New Jersey's first Hispanic woman to serve as a US district judge. She was nominated by Barack Obama in 2010, and confirmed by the Senate the following year.