---
Weinstein Appeals New York Rape Conviction As Lawyers Allege Biased Juror Misled Judge
Roughly 13 months after he was sentenced to more than 23 years in prison (an effective life sentence for the 69-year-old movie mogul) after being convicted of rape, nefarious former Hollywood super-producer (and Democratic mega-donor) Harvey Weinstein and his legal team filed an appeal on Monday. In the filing, lawyers for the mogul argued that his trial was tainted by the involvement of a juror who had published a book about the predations of older men against younger women.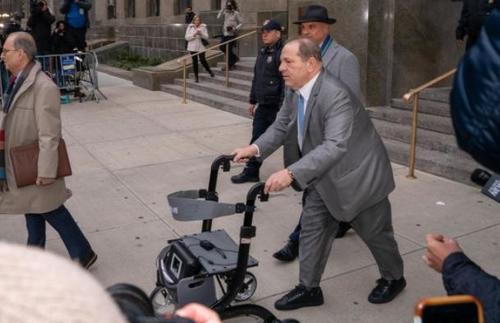 According to the 160-page appeal, Weinstein's lawyers allege Juror Amanda Brainerd should have been removed from the jury pool due to the content of her debut novel, "Age of Consent," which was published last year and tackled themes of sex and "predatory older men," according to a description on the author's website. In their appeal, Weinstein's lawyers argued that Brainerd was not honest about the nature of the novel during jury selection and criticized New York Supreme Court Judge James Burke for failing to remove her from the jury pool after the defense had run out of its allotted number of challenges to potential jurors.
"Although the defense raised legitimate questions about whether Juror No. 11 was fit to serve, the trial court failed to discharge its constitutional obligation to conduct a full inquiry to ensure that the juror was capable of rendering a fair and impartial verdict," the defense wrote in a filing.
The defense team also alleged that it was "improper" for women other than Weinstein's accusers to have been allowed to testify. And that the judge in the case improperly excluded a defense expert witnesses who planned to challenge the accounts of Weinstein's alleged victims.
In short, Weinstein's legal team alleges that the trial was effectively sabotaged by the #MeToo movement. While the judge allowed prosecutors to bring in expert witnesses to help explain away inconsistencies like why Weinstein's accusers continued to carry on a professional and personal relationship with the mogul - in some cases, even continuing to sleep with him - after the alleged assaults, the same courtesy was not extended to the defense.
"Their explanations of why they capitulated, continued to see him, have sex with him, email him, introduce him to their parents and friends, and request favors from him are implausible, but the trial court lent them a venire of credibility by permitting over vociferous objection, expert testimony from a psychiatrist that such behaviors were commonplace for victims of sexual assault and that such victims do not lie and never forget, while it precluded the defense from admitting expert testimony to rebut her claims," the defense said.
Defense attorneys also argued that the jurors judged Weinstein not on the evidence presented at trial, but on the media's profoundly negative coverage of the mogul's alleged misdeeds. Weinstein's attorneys said the prison term was unduly harsh because, they argued, he was not judged based on who he is but on how he was cast in the press.
"Sadly for Mr. Weinstein, the trial court's sentence reflects not on Mr. Weinstein, the man, and the conduct for which he was convicted, but on Mr. Weinstein the media villain," the defense said.
Manhattan DA Cyrus Vance Jr., who is currently bogged down in his investigation of President Trump's pre-politics business practices, said his office would save its response for an upcoming brief to the court in response to the appeal.
Weinstein began serving his 23-year prison sentence last year after a New York jury comprising five women and seven men convicted him on rape and sexual assault  charges involving two female victims - though more than 80 women came forward to accuse Weinstein of similar predations in the press.
The jury found Weinstein guilty of raping aspiring actress Jessica Mann in 2013, and of forcibly performing oral sex on TV and film production assistant Mimi Haleyi in 2006. Overall, Weinstein was sentenced to 20 years in prison and five years post-release supervision for criminal sex act in the first degree, along with another three years for third-degree rape (along with five-years post-release supervision). The sentences will be served consecutively.
Appeals in high-profile cases are extremely common (practically every defense attorney who loses a case files an appeal). But as the NYT pointed out, the appeal likely marks the beginning of what will be a lengthy effort by the mogul to overturn his convictions.