---
Heavy Turnout As Ohio Constitution Vote Nears Tuesday Finish
Ohioans are turning out in heavy numbers for a special, off-cycle vote on a referendum that would make it much harder to change the state's constitution -- something abortion supporters see as a threat to their efforts. 
More than a half-million Ohioans have already cast their ballot during early voting. Election Day is here -- Tuesday, August 8 election day -- and polls will be open from 6:30 am to 7:30 pm. "This is gubernatorial-level turnout," Regine Johnson, deputy director of the board of elections in Stark County, told Associated Press. 
Though it addresses constitutional amendments in general, Tuesday's referendum is seen by some as targeting a November ballot initiative that would declare abortion to be a right in the Buckeye State. 
"Issue 1" would raise the bar for constitutional amendments by requiring a 60% voter-majority for enactment, rather than 50% under the status quo. It also puts speed bumps earlier in the process, requiring signature drives for ballot initiatives to collect signatures from all 88 Ohio counties, up from 44. The measure would also kill a 10-day "cure period," in which campaigns that fall short of the requisite number of valid signatures can go back out to get more.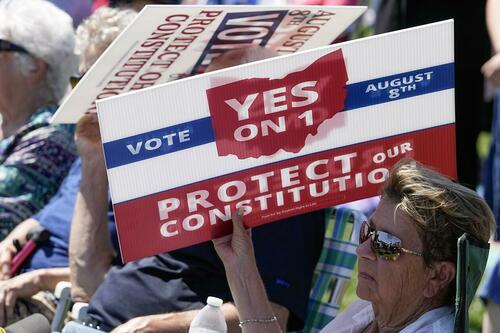 The 60% requirement would take effect instantly. Democrats say Issue 1 represents an attack on citizens' rights, while Republicans think it's essential for safeguarding the state constitution from special interest groups, including those led and bankrolled by people who don't live in Ohio. 
In November, Ohio voters will vote on an initiative to amend the state's constitution so it will assert that "every individual has a right to make and carry out one's own reproductive decisions, including but not limited to decisions on contraception, fertility treatment, continuing one's own pregnancy, miscarriage care, and abortion." 
The proposed amendment does allow for abortion to be prohibited "after fetal viability. But in no case may such an abortion be prohibited if in the professional judgment of the pregnant patient's treating physician it is necessary to protect the pregnant patient's life or health."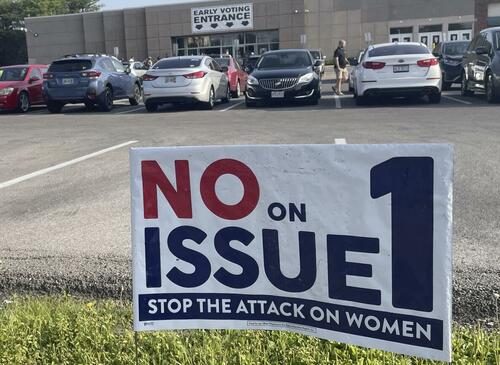 Under the banner of "Ohioans United for Reproductive Rights," well-organized abortion supporters amassed 700,000 signatures in support of their November ballot initiative, against a requirement of just 400,000. Today, Ohio bans abortions after 22 weeks. The state enacted a six-week ban but enforcement has been suspended while challenges to the law make their way through the courts. As Ohio has become more hostile to abortion, the state now has just nine abortion clinics, compared to 23 in 2010.
In the wake of the Supreme Court decision that properly put abortion law back in the purview of individual states, pro-abortion activists have been on a roll that started with a decisive, 59%-41% defeat of a Kansas measure that would have given the legislature more power to impose abortion restrictions. The lopsided result in a reliably Republican state sent a shock wave across the political landscape.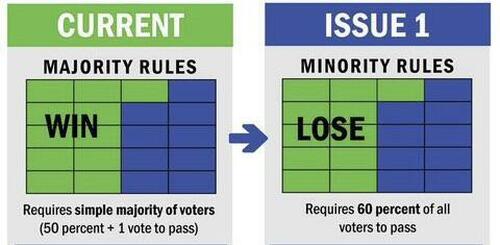 While abortion implications of Tuesday's vote are in the spotlight, Issue 1 would also affect any number of other ballot-initiative targets, such as minimum-wage hikes and municipal bond approvals. 
An Ohio Northern University poll published on July 31 found 42.4% of registered voters support Issue 1, with 41% against it and 16.6% undecided. 
Loading...