---
'Help Me!' Kidnapped Texas Teen Found In California After Good Samaritan Sees Her Handwritten Sign
Via The Epoch Times (emphasis ours),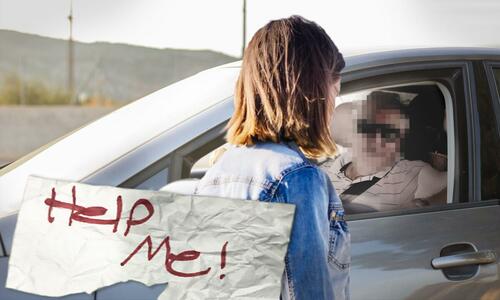 A 13-year-old girl who went missing from her home in Texas this month was found alive by police in Long Beach, California. A good Samaritan had seen her inside a vehicle with a sign that read, "Help me," and subsequently called authorities, leading to her rescue.
According to court documents, the teen had run away from home, and on July 6 was walking down a street in San Antonio when a grey Nissan car pulled up beside her. The driver, a man in his 60s, then allegedly drew a gun and told her, "If you don't get in the car with me, I am going to hurt you."
Fearing for her life, the girl got in the passenger's seat of the car and when he asked her age, she replied she was 13. At one point he allegedly said he was 26 and then later 43. She mentioned she had a friend in Australia, and he said he would take her on a cruise ship to visit them but that she had to do something for him first.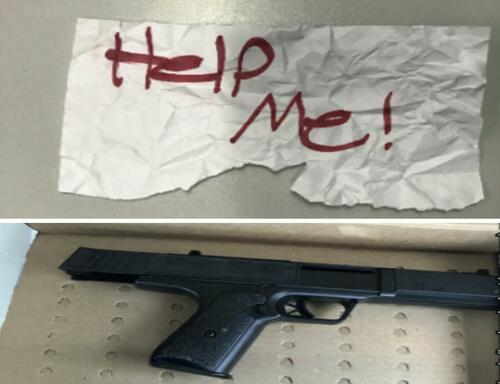 The man then allegedly sexually assaulted her repeatedly in the back of the car. He would again sexually assault her at least two more times over the next two days as they drove from Texas to California.
On July 9, they parked at a laundromat in Long Beach, Los Angeles County, where the suspect went inside to wash their clothes. At that point, the girl held up a sign that she had written which read, "Help me." A passerby who saw the sign phoned police who, upon arrival, allegedly saw the suspect standing outside the car, and saw the girl mouth the word "help."
The suspect, 61-year-old Steven Robert Sablan, was arrested, and now faces kidnapping charges with a maximum possible sentence of life in a federal prison. Police searched the car and found a black BB gun,  a brown and black switch blade knife, a hand-written help me sign, and a pair of handcuffs.
Mr. Sablan had two prior convictions for robbery with a deadly weapon from 1985 and 1979, respectively.
The good Samaritan who phoned in to help the young victim was not identified in court documents.
"I want to commend our community members for their vigilance and willingness to get involved by calling 9-1-1. This incident highlights the critical role community members play in keeping people safe," said Chief of Police Wally Hebeish in a press release. "I would also like to acknowledge our officers for their swift response and actions which led to getting this victim to safety."
Loading...