---
Here Are The Top Highlights From Ghislaine Maxwell's Unsealed Court Records
Dozens of exhibits related to Ghislaine Maxwell and Jeffrey Epstein were unsealed Thursday evening, providing insight into allegations against the financier and his purported 'madam,' as well as other high-profile individuals, including Bill Clinton, Alan Dershowitz and several other people whose names one can only guess (and the internet has).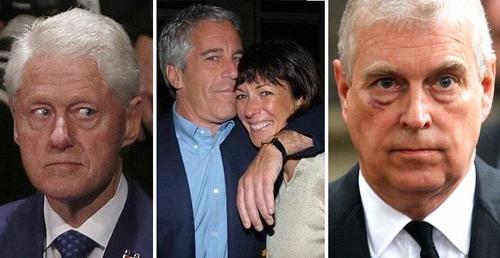 The documents, related to a 2015 civil defamation lawsuit against Maxwell by Epstein accuser Virginia Giuffre, were ordered to be released on July 23 by US District Judge Loretta Preska - which also included flight logs from Epstein's private jets, as well as police reports from the multiple locations where Epstein maintained residences.
Among the findings:
Bill Clinton was allegedly on pedo island with '2 young girls'
Witness interview:

Bill Clinton was at Epstein's island with Jeffrey Epstein, Ghislaine Maxwell, and "2 young girls." pic.twitter.com/NG8PbaZLNt

— Techno Fog (@Techno_Fog) July 31, 2020
Later in that interview:

V: He told me a long time ago that everyone owes him favors. They're all in each other's pockets.

JS: When you say you asked him why is Bill Clinton here, where was here?

V: On the island.

Doc: https://t.co/DyASI4SvIm pic.twitter.com/0yjsMUiCvo

— Adam Klasfeld (@KlasfeldReports) July 31, 2020
Sordid details from alleged sexual encounters
July 31, 2020
Virginia Giuffre asked Comey's FBI for evidence in their possession, and was ignored.
Heartbreaking -

The minor victim was asking the FBI for the evidence (photos and videos) they seized from Epstein.

Why?

So she could prosecute her civil case. pic.twitter.com/WlISCmN6Ze

— Techno Fog (@Techno_Fog) July 31, 2020
The DOJ let free Epstein's co-conspirator's in the FL case.

This included Maxwell and Sarah Kellen.

Here the victim describes the abuse during flights from Epstein, Maxwell, and Kellen. pic.twitter.com/1zF2MELFDw

— Techno Fog (@Techno_Fog) July 31, 2020
At the time Epstein signed his plea deal...

The FBI and DOJ knew it had not interviewed all his victims. pic.twitter.com/tyLdj56Hx5

— Techno Fog (@Techno_Fog) July 31, 2020
Of course:
What kind of info do you have to handover to get away with one of the most horrendous crimes a human being can commit in the span of three decades?

The answer is most likely none since Epstein was working with the feds. pic.twitter.com/hIK8G2K2ym

— Luke Rudkowski (@Lukewearechange) July 31, 2020
Maxwell was in communication with Epstein in January of 2015 - contradicting her claim that she hadn't been in touch with him in more than a decade.
This so far is the most interesting thing to emerge: Maxwell and Epstein emailing in January 2015, despite Maxwell's claims not to have been in touch with Epstein in more than a decade. pic.twitter.com/FOr6nSAOFJ

— David Enrich (@davidenrich) July 31, 2020
Alan Dershowitz is mentioned several times (and has gone to great lengths to defend himself - suggesting on multiple occasions that this very document release would in exonerate him).
NEWS:

This same document appears also to have been released publicly tonight in unredacted form and shows Jane Doe 3 accusing Alan Dershowitz. @CourthouseNews https://t.co/lgTDT2yq88 pic.twitter.com/AyehpGYVBY

— Adam Klasfeld (@KlasfeldReports) July 31, 2020
Maybe this is why Alan Dershowitz keeps insisting that he always visited Jeffrey Epstein's island with his wife… pic.twitter.com/o8azhwS0Po

— Andrew Feinberg (@AndrewFeinberg) July 31, 2020
Dersh defends:
I hope Epstein made videos
There have been suggestions that Epstein made secret videos of all the men who had sex in his houses and planes. I hope he did and they are all revealed, because they will prove I am not among them. I hereby waive any right of privacy in Epstein videos.

— Alan Dershowitz (@AlanDersh) July 5, 2020
Epstein accuser(s) allegedly had to have sex with this guy...
Serious allegations -

Maxwell directed the minor to have sex with former MIT scientist Marvin Minsky at Epstein's complex in the US Virgin Islands.

(Minsky pictured.) pic.twitter.com/BUluGMu9Wo

— Techno Fog (@Techno_Fog) July 31, 2020
And former New Mexico Governor Bill Richardson (D)
Guess Bill Richardson is who we should be asking if these redactions were really an "error" pic.twitter.com/gl4Uo7KPYb

— Shirtless Pundit 🇺🇸 (@ShirtlessPundit) July 31, 2020
Other speculative mentions (redacted): Prince Andrew, Jean Luc Brunel, and more.
Just... wow. https://t.co/KR2hyzlmIn pic.twitter.com/eIz6fiOdei

— Josh Caplan (@joshdcaplan) July 31, 2020
Note: Virginia Giuffre used to be known in court documents as Jane Doe 3.

The same doc shows similar allegations she has made against Prince Andrew and Jean-Luc Brunel.https://t.co/xMKi02ewA2 pic.twitter.com/T6x4qPZOec

— Adam Klasfeld (@KlasfeldReports) July 31, 2020
Jane Doe 3 also said she was forced to have sex with a powerful [REDACTED] individual "in London (at Ghislaine Maxwell's apartment), in New York, and on Epstein's private island in the U.S. Virgin Islands (in an orgy with numerous other under-aged girls)." pic.twitter.com/GUmyuNQYuS

— Adam Klasfeld (@KlasfeldReports) July 31, 2020
Trump is in the clear (which we've known for some time):
"Donald Trump was aiso a good friend of Jeffreys. He didn't partake in sex with any of us but he flirted with me. He'd laugh and tell Jeffrey, 'You've got the life.'"https://t.co/gQ8dtoLkyO

— Ann Coulter (@AnnCoulter) July 31, 2020
And some food for thought...
Also: https://t.co/W3lSdeSh24

— Jack Posobiec 🇺🇸 (@JackPosobiec) July 31, 2020
Check back for more...