---
Hillary Parrots Soros, Says Facebook 'Intends To Reelect Trump'
Just 48 hours after left-wing billionaire George Soros accused Facebook of helping to "reelect Trump" so that "Trump will protect Facebook," Hillary Clinton parroted the same talking point at the Sundance Film Festival in Park City, Utah.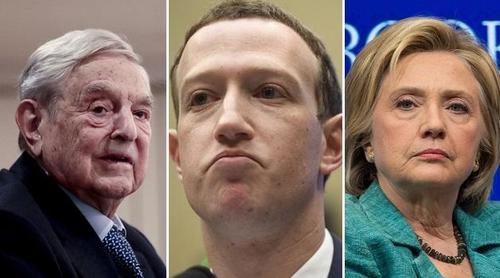 Clinton was in town to promote a four-part viewing of her new Hulu docu-series, "Hillary," when she told The Atlantic  that Facebook CEO Mark Zuckerberg is an "authoritarian" who "intend[s] to reelect Trump."
She described the company's decision to allow a slowed-down video of House Speaker Nancy Pelosi (D-CA) to remain on the platform as "Trumpian."
"I said, 'Why are you guys keeping this up? This is blatantly false. Your competitors have taken it down. And their response was, 'We think our users can make up their own minds,'" Clinton told the magazine, adding that Facebook is "not just going to reelect Trump, but intend[s] to reelect Trump."
"They have, in my view, contorted themselves into making arguments about freedom of speech and censorship," Clinton alleged, the Atlantic reported, "which they are hanging on to because it's in their commercial interests."
"I feel like you're negotiating with a foreign power sometimes," Clinton said of her conversations "at the highest levels" of Facebook, adding "This is a global company that has huge influence in ways that we're only beginning to understand."
Soros, meanwhile, said at Davos: "Facebook will work to re-elect Trump and Trump will protect Facebook," adding "It makes me very concerned about the outcome of 2020."
Facebook responded to the accusation, telling Politico, "This is just plain wrong."
In other words, Trump can't win elections because he's that good -- he's only winning because "Authoritarian" Mark Zuckerberg is allowing gullable Americans to be misled by fake news, or so the narrative goes.