---
Home Depot Co-Founder Rails Against Socialism And "Woke People," Warns 'Capitalism In Dire Straits'
The 93-year-old billionaire co-founder of Home Depot railed against "socialism" for why nobody wants to work and warned capitalism is in dire straits. 
In an interview published Thursday, Bernie Marcus told Financial Times that "nobody works, nobody gives a damn," blaming socialists and "the woke people" for the country's troubles. 
"'Just give it to me. Send me money. I don't want to work — I'm too lazy, I'm too fat, I'm too stupid,'" Marcus said, adding if he founded Home Depot in today's toxic environment, it might not succeed.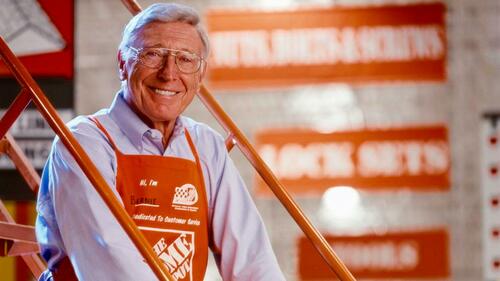 On a video call for the interview, Marcus spoke from his home in Boca Raton, Florida, warning that he's "worried about capitalism ... it's the basis of Home Depot [and] millions of people have earned this success and had success. I'm talking manufacturers, vendors and distributors and people that work for us [who have been] able to enrich themselves by the journey of Home Depot." 
"That's the success. That's why capitalism works," he added. 
Marcus then called President Biden "the worst president in the history of this country," noting that former President Trump's policies were "spot on," but "it's going to be very interesting in '24 because I think that DeSantis will challenge him. And may the better man win."
Marcus was unapologetic for his support for Republicans:
 "I give money to them because I hope they're going to do the right thing." Since 1978, he has donated $63,801,322 to political campaigns, according to Bussiness Insider. 
Insider reached out to Home Depot about Marcus' FT interview. They said:
"Our co-founder Bernie Marcus left The Home Depot more than 20 years ago, and his views do not represent the company."
Marcus' warning is similar to co-founder and retired CEO of Whole Foods, John Mackey, who recently warned "socialists are taking over" and 'capitalism cannot be replaced with disastrous socialism'. 
Loading...